Encyclopedia on Hadith to be out by year-end: Dr Tahir-ul-Qadri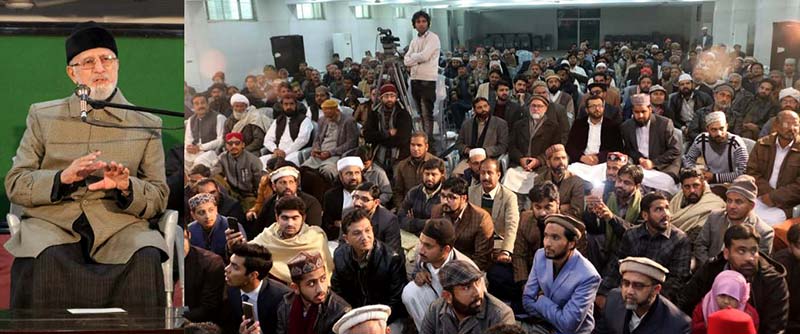 MQI leader Dr Muhammad Tahir-ul-Qadri has said that Minhaj-ul-Quran International is a global movement working for the promotion of peace, interfaith dialogue and religious harmony. He said that after the publication of the Quranic Encyclopedia, an Encyclopedia on twenty thousand Hadith will be ready for publication by the end of this year. He said that the work will also be carried out on a project that makes it possible for the blind to read books on the Holy Quran and Hadith.
Dr Tahir-ul-Qadri made these remarks while talking to the office holders of the MQI North Punjab chapter. Deputy Secretary-General Northern Punjab Allama Muhammad Idrees Rana was also present on the occasion. The visiting delegation consisted of the office bearers and religious scholars from Gilgit-Baltistan, Rawalpindi, Jhelum, Sargodha, Mianwali and Attock.
Dr Tahir-ul-Qadri said that the MQI is committed to the mission of gathering all schools of thought on the same platform on the basis of the Quran and Sunna. He said that it is a standard operating procedure that the distinguished religious scholars and Mashaykh belonging to all schools of thought are invited to the programmes held under the banner of the MQI, stating that it is a matter of great satisfaction that they are pleased to participate in these events.
The MQI leader said that we are going to every nook and corner of the world with the message of unity among all. He said that sectarianism constitutes a heinous conspiracy against Pakistan and Islam. He said that we would continue to invest our efforts and energies in the mission of connecting people through the bond of love and eliminating sectarianism. He said that MSM, MWL, and MYL are the vanguard of this movement of love, peace, and knowledge. He directed the district chapters of the MQI to hold inaugural ceremonies of the Quranic Encyclopedia in an effort to persuade people to take to reading and benefiting from the Holy Book.
Allama Rana Muhammad Idrees informed on the occasion that the inaugural ceremonies of the Quranic Encyclopedia have been arranged on Feb 2 and Feb 3 in Jhelum and Chakwal respectively.
Dr Qadri also handed out life membership certificates to the participating leaders.