Armed forces of Pakistan are our pride & protector: Resolution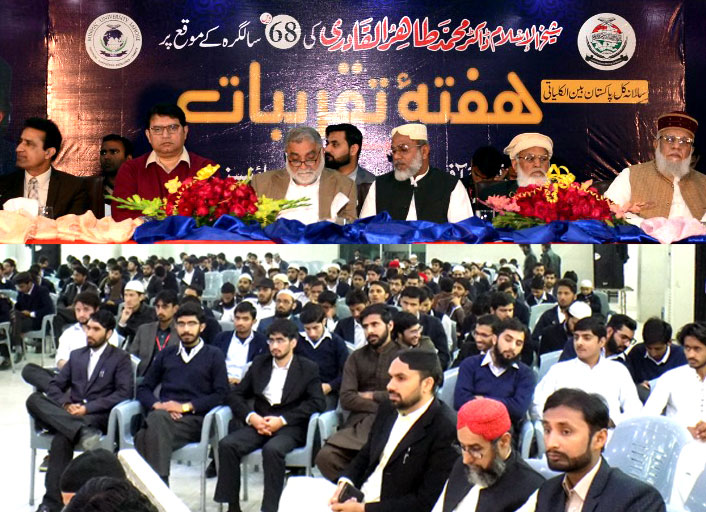 Mohsin Laghari, the provincial minister for Irrigation, who was the chief guest at the annual speech declamation contest held under the banner of COSIS, asked why India, which claims to be the largest democracy of the world, is afraid of dialogue. He said that after being shamed by the Pakistan armed forces, the cowardly Indian forces perpetrated violence on the hapless Kashmiris. He said that the armed forces of Pakistan have made a commitment to protect the country at every cost and they have come good on this pledge through thick and thin. He said that the Pakistan Air Force made the nation proud by exposing the Indian arrogance for what it is.
Parliamentary Secretary Punjab Ahmad Shah Khagga, Prof Muhammad Nawaz Zafar, Mufti Abdul Qayyum Khan Hazarvi, Sultan Khan, Major (r) Muhammad Khan, Dr Mumtaz-ul-Hassan Barvi, Noorullah Siddiqui and Allah Ditta also spoke on the occasion. The male and female students of COSIS, Minhaj College for Women, Government College Bhaira, and Dar-ul-Uloom Ghosia took part in the speech competition.
Mohibullah Azhar paid rich tributes to the armed forces of Pakistan on their courageous role in protecting the motherland. The students said in their speeches that the whole nation stands united and firm in support of their armed forces.
Speaking on the occasion, Pir Ahmad Shah Khagga said that it is a matter of great pleasure that Dr Tahir-ul-Qadri is not only imparting quality education to the youth of the country but also focusing on their character building. He said that we are proud of the work that Dr Qadri has done in multiple areas. He said that the nation is in the safe hands and God willing, its future will also be unassailable and strong. He said that those drumming the war hysteria are hollow from inside, stating that the Modi government has enacted the whole drama to increase its electoral prospects in the upcoming elections. He said that the sane elements and the opposition parties in India should be worried, adding that not only friends but our enemies are also fully aware of our strength.
Huzaifa Shabbir, Hafiz Muhammad Hunzala, Batool Mushtaq, Hafiz Muhammad Yasir, Kashif Iqbal, and Manahal Bukhari got top positions in the competitions. Prof Dr Muhammad Mukhtar Azmi, Nooruz Zaman Noori and Ijaz Ahmad were the members of the jury. Mudassar Rasool Nuri and Farhan Nasir were the masters of ceremony. Hafiz Naeem had the honour to recite the verses from the Holy Quran followed by Naat.