MWF's annual mass-marriage ceremony to be held on March 24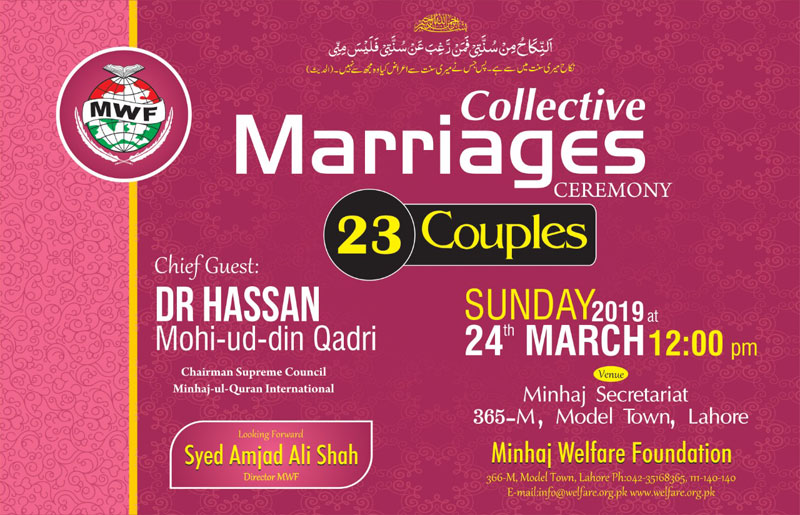 The annual mass marriage ceremony of 23 couples will be held under the banner of Minhaj Welfare Foundation at the playground in front of the MQI central secretariat on March 24 (Sunday). Noted political and religious leaders, social activists, sportspersons, showbiz personalities, and distinguished people belonging to various walks of life will attend the ceremony. The preparations for the purpose have almost been completed.
Thousands of the girls belonging to the poor families have been married off in the mass marriage ceremonies held throughout the country on the directions of Shaykh-ul-Islam Dr Muhammad Tahir-ul-Qadri and now they are living happy married lives.
Various administrative committees have been set up to make preparations for the annual mass marriage ceremony. An important meeting to oversee the arrangements was held in the secretariat which was presided over by Director MWF Syed Amjad Ali Shah. Those present on the occasion included Khurram Shahzad, Shahzad Rasool, Mian Iftikhar, Sohail Ahmad Raza, Ayub Ansari, Imtiaz Awan and Saeed Akhtar.
Speaking on the occasion, Syed Amjad Ali Shah said that mass marriage is a flagship programme of the MWF. He said that one annual ceremony takes place at the central level once a year whereas different such ceremonies continue to be held throughout the year at the divisional and district levels. He said that every bride is given the stuff of everyday use worth Rs. 2 lacs in addition to arrangements of food for 60 guests per couple. He said that 22 Muslim and 1 non-Muslim couples will be married off in the ceremony on the 24th of March this year. He said that the religious scholars of Minhaj Ulama Council will solemnize the Nikah of the Muslims couples whereas the marriage of the non-Muslim couple will be performed according to their religious rites. The marriage processions will be received warmly by the leaders of the PAT and MQI.