Dr Tahir-ul-Qadri speaks to media ahead of OIC meeting in Riyadh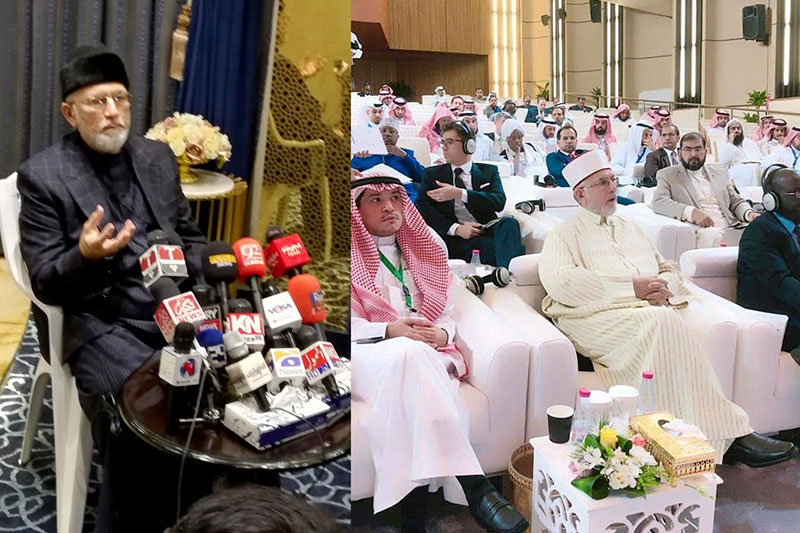 Talking to media persons in Riyadh, MQI leader Dr Muhammad Tahir-ul-Qadri has said that he has come to Saudi Arabia to attend the OIC meeting on the invitation of the Secretary General of the Organization of the Islamic Conference (OIC) where he will deliver his speech. He said that terrorism and extremism are sore points for the Muslim world and the fact that the OIC is taking up these issues for collective deliberation augurs well. He said that the OIC Secretary General and other officials deserve to be lauded on arranging a moot on these critical issues.
Dr Tahir-ul-Qadri said that the terrorists misinterpret the concept of Jihad and thus mislead the youth for their nefarious designs. He said that the time has come for the presentation of a correct and acceptable narrative on Jihad so that no one is able to misinterpret the Islamic concepts and use them for their sinister objectives. He said that terrorism has affected the whole world but it is the Islamic world which has particularly been hit by its ill effects. He said that it is the Muslims who have borne unimaginable sufferings as a result of terrorism and it is they who are getting singled out for it.
Dr Qadri said that it has become most essential that the Islamic countries pool their intellectual resources and find a durable solution to this problem. He said that the world needs to be educated about the reality of Islamic teachings, stating that Islam emphasizes the establishment of peace and protection of the entire humanity. He said that Islamic teachings also spell out a clear-cut roadmap for peace.
The MQI leader said that he would also mention the services and contributions made by Minhaj-ul-Quran International for the promotion of peace and interfaith dialogue in his address at the OIC meeting on the 10th of April.
Meanwhile, Dr Tahir-ul-Qadri attended the inaugural session of the OIC held on April 09. In his opening address, Secretary General OIC Dr Yousaf Ahmad welcomed him. The ambassadors and delegates of Saudi Arabia, UAE, Algeria, Morocco, Bangladesh, Afghanistan and the African countries met with Dr Qadri during the inaugural session and appreciated the worldwide services of the MQI for peace and building of interfaith bridges.
MQI Supreme Council Chairman Dr Hassan Mohi-ud-Din Qadri and Dr Ghazala Hassan Qadri were also present on the occasion. The European and the American diplomats, who are attending the OIC meeting as observers, also held meetings with Dr Tahir-ul-Qadri.