Dr Tahir-ul-Qadri working for the welfare of people: Jahan Ara Wattoo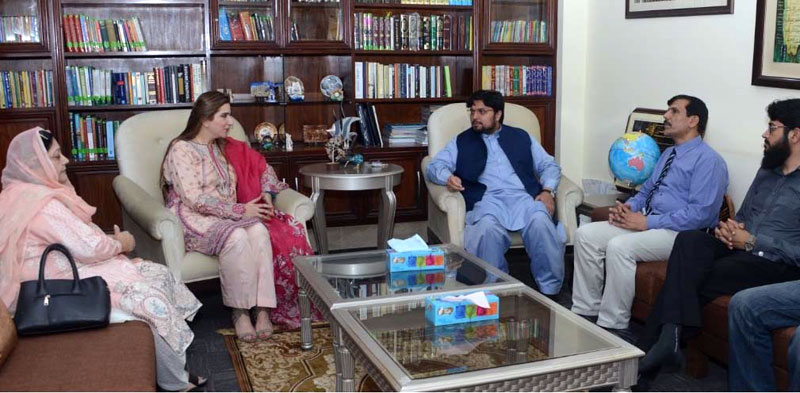 Ms. Jahan Ara Wattoo, former advisor to SAARC and renowned social activist visited Orphan Care Home (Aghosh) and Minhaj University Lahore (MUL). She paid rich tributes to Dr Tahir-ul-Qadri for setting up an institution for the education, upbringing, and training of the orphan children and said that providing education to orphan children is a great service to society. She visited various departments of Minhaj University and the Orphan Care Home and also met with Dr Hussain Mohi-ud-Din Qadri, Deputy Chairman BoG, Dr Shahid Soroya, pro-vice chancellor and Khurram Shahzad, academic head. She also held a meeting with Director Orphan Care Home Col. (r) Faisal Aziz, and Principal Aghosh Grammar School Imran Zafar Butt. Shahzad Khurram was also present in the meeting.
Talking on the occasion, Dr Hussain Mohi-ud-Din Qadri said that at MUL, special attention is paid to the character building of the students in addition to the provision of education according to the requirements of the contemporary age. He said that more than 700 schools and dozens of colleges set up by the MQI are doing amazing work for the spread of education in the country. He said that the School of Peace and Spiritualism Centre distinguishes MUL from the rest of the universities in the world.

Col. (r ) Faisal Aziz informed during the meeting with Ms. Jahan Ara Wattoo that the orphan children are being provided quality educational, and residential facilities at Aghosh. He said that after Lahore, the institution of Aghosh has been established in Karachi and Sialkot and its scope is being extended to the rest of the country.
In her talk, Ms. Jahan Ara Wattoo that the services and contributions of the MQI in the fields of education and human welfare are worthy of emulation by others. He said that Dr Tahir-ul-Qadri is spreading happiness in the world, adding that the institutions set up by him have become an example for others. She said that MQI is promoting the awareness of being beneficial to others.
Ms. Jahan Ara Wattoo intermingled with the students of the Orphan Care Home. She asked them questions about their favorite poems and stories.
Today had a meeting with Dr Hussain Muhayyudin sb at Minhaj university Lahore. To combat extremism we have to bridge the gap of western studies and religious studies also keeping in mind our cultural heritage.
We discussed recent political situation in Pakistan. pic.twitter.com/1xbS5IVehH

— JahanAra M Wattoo (@JahanAraWattoo) April 25, 2019
On the invitation of "Aghosh* an orphanage. Visited the children and spent great time there. Excellent facility for 250 orphan children. Providing them grammar school education, clean environment to live and brilliant sports and science learning . pic.twitter.com/ALS9Z8h4hu

— JahanAra M Wattoo (@JahanAraWattoo) April 25, 2019