Ramadan is the month of internal purification: Dr Hassan Mohi-ud-Din Qadri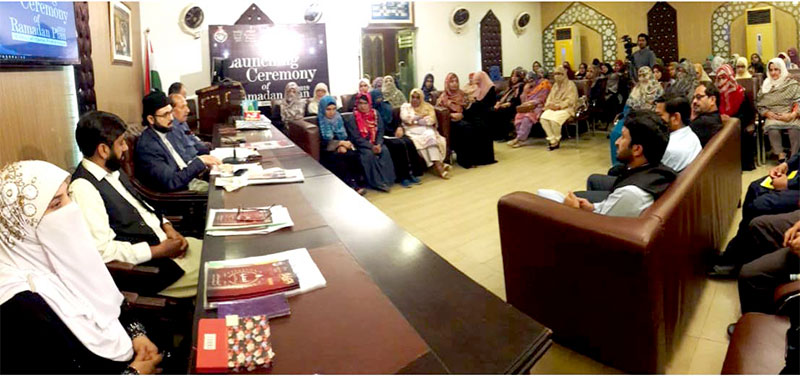 Chairman MQI Supreme Council Dr Hassan Mohi-ud-Din Qadri presided over a meeting held at the central secretariat to approve the moral and spiritual programmes to be conducted during the holy month of Ramadan under the banner of Minhaj-ul-Quran Women League. MWL President Farah Naz, Kalsoom Tufail, Anila Ilyas, Zainab Arshad, Umme Habiba Ismail, Sidra Karamat, and Sana Waheed briefed the participants of the meeting about the activities during Ramadan that subordinate organizations such as Irfan-ul-Hiyada, Eagers, MSM Sisters, Voice and Dawah Directorate have planned to carry out. Ms. Amina Ulfat, the senior leader of Pakistan Muslim League, attended the meeting on special invitation.
Addressing the meeting, Dr Hassan Mohi-ud-Din Qadri said that Ramadan is the month of internal purification that provides us with an opportunity to please our Lord. He said that the best way to respect the spirit of the month is to abstain from all manners of sins, spend most of one's time in worship, seek Allah's forgiveness and serve the people. He lauded MWL for its detailed programme to educate the women about religious, moral and spiritual teachings of the faith.
MWL leaders told the meeting that MWL Eagers will establish contacts with the educational institutions and the families in order to fully benefit from the blessings of this holy month and the qualified scholars will impart lessons on various issues. MSM Sisters has also planned to arrange different programmes for the moral training of the female students, whereas Voice will provide the eatables and other household stuff to the poor and the needy with the cooperation of the well-to-do people. In the same way, the countrywide lectures on the Holy Quran have been arranged under Irfan-ul-Quran al-Hiyada programme.
Those who attended the meeting included Brig. (r) Iqbal Ahmad Khan, Noorullah Siddiqui, Rana Muhammad Farooq, Allama Ghulam Murtaza Alvi, Jawad Hamid, Mazhar Mahmood Alvi, and Irfan Yousaf.