Arrangements for Itikaf 2019 at full swing: Khurram Nawaz Gandapur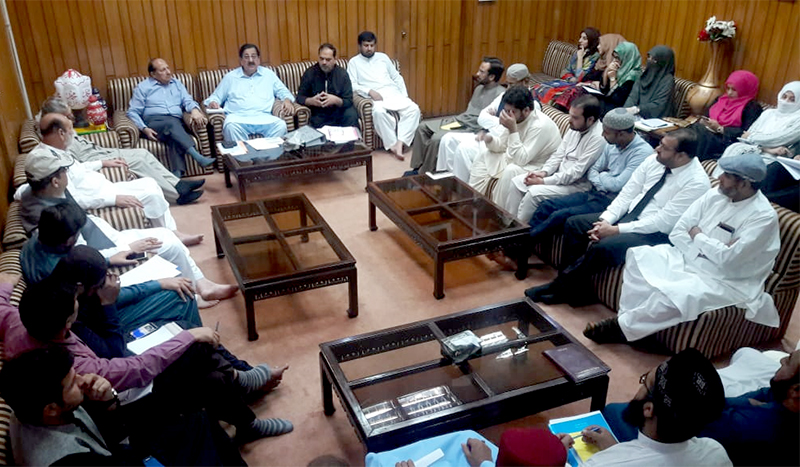 Khurram Nawaz Gandapur, Secretary General MQI and the head of the central administrative committee for Itikaf 2019, has said that the arrangements for Itikaf that is all set to begin from the 26th of May onwards, are being made with traditional fervor. He said that thousands of the faithful will attend Itikaf along with Shaykh-ul-Islam Dr Muhammad Tahir-ul-Qadri till the sighting of the Eid moon, stating that it is the largest Itikaf gathering in the world after the one held at Two Holy Mosques.
Khurram Nawaz Gandapur expressed these views while reviewing the arrangements for Itikaf during a meeting of the administrative committees at the central secretariat. He said that thousands of people from different parts of Pakistan, as well as abroad, will join the Itikaf City on the evening of the 20th Ramazan. He said that separate arrangements are being made for the male and female residents of the Itikaf City. He said that the registration process for Itikaf is underway at the provincial headquarters including northern areas, interior Sindh, Balochistan and Azad Kashmir which will continue till the 15th of Ramazan. He said that those who would not register will not be able to attend Itikaf.
MQI Secretary General said that Dr Muhammad Tahir-ul-Qadri will reach Pakistan in about a week's time from now. He said that the keynote speech of Dr Qadri will begin after Tarawih prayer every night. He said that Itikaf City is a show of exemplary brotherhood whereby the people belonging to different parts of the country come together to please their Lord and seek His forgiveness.
Brig. (r) Iqbal Ahmad Khan, Jawad Hamid, G.M. Malik, Ahmad Nawaz Anjum, Noorullah Siddiqui, Haji Manzoor Ahmad, Adnan Javed, Mazhar Alvi, Irfan Mahmood, Farah Naz, Ayesha Mubashar, Sidra Karamat and Sana Waheed attended the meeting.