Corruption and Pakistan cannot go hand in hand: Dr Hassan Mohi-ud-Din Qadri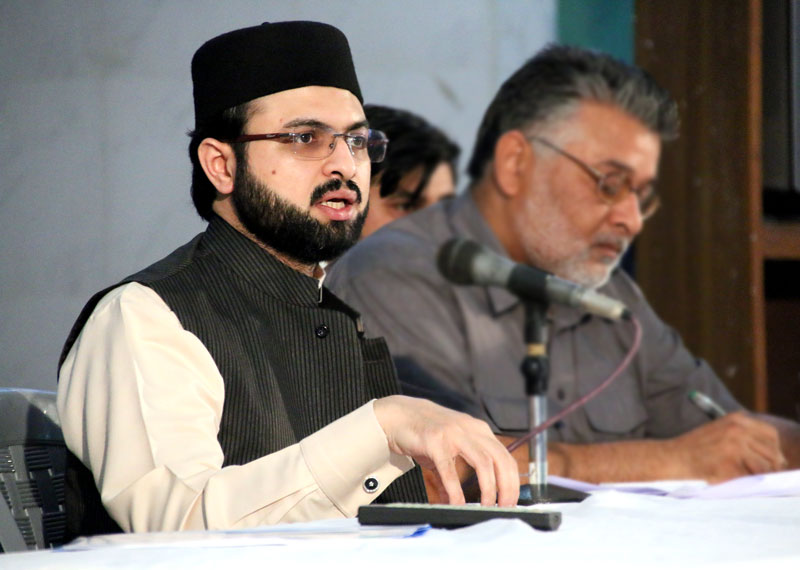 Chairman MQI Supreme Council Dr Hassan Mohi-ud-Din Qadri has said that promoting the culture of truthfulness and honesty is the requirement of the Constitution of Pakistan and Islamic teachings. He said the scourges of corruption, nepotism and injustice have undermined the ideological foundations of the country.
Dr Hassan Mohi-ud-Din Qadri made these remarks while addressing a meeting held at the central secretariat yesterday. Brig. (r) Iqbal Ahmad Khan, Khurram Nawaz Gandapur, GM Malik, Jawad Hamid, Rafique Najam, Ahmad Nawaz Anjum, Noorullah Siddiqui, Raja Zahid Mahmood, Ms. Farah Naz, Mazhar Mahmood Alvi, Chaudhry Irfan Yousaf, Rashid Kalyami and other leaders attended the meeting.
Dr Hassan Mohi-ud-Din Qadri said that the destruction of the system that does not provide justice to the families of the martyrs and allow them to have right to a fair trial is in the best interest of the people. He said that corruption and Pakistan cannot go hand in hand, stating that the role of the judiciary is of paramount importance in the eradication of corruption. He said that Pakistan cannot be put on the path to progress and stability without putting the powerful to the process of accountability.
The heads of the administrative committees established to make arrangements for Itikaf presented their progress reports in the meeting. They said that the best facilities will be provided to the residents during the ten days of Itikaf.
Dr Hassan Mohi-ud-Din Qadri said in his concluding remarks that the youth should be persuaded to become part of Itikaf City. He said that they should turn their back on the worldly commitments for ten days and focus exclusively on their spiritual reform and well-being.