MQI & Red Crescent Pakistan jointly hold blood camp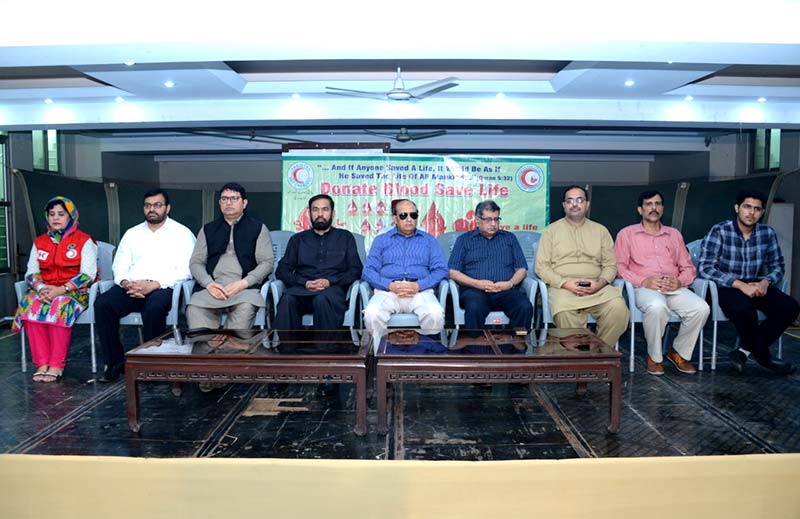 A blood camp was arranged in the central secretariat with the joint cooperation of MQI and Red Crescent Pakistan in which the PAT and MQI workers gave blood donations.
Rafique Najam, Noorullah Saddiqui, Jawad Hamid, Ghussan Jawad, Naeem-ud-Din Chaudhry Advocate, Shahzad Rasool and other leaders were also present on the occasion.
Addressing the ceremony held in this connection, Red Crescent Pakistan representative Dr Fozia said that 450 children suffering from Thelemsia are registered. She said that saving the life of one child is like saving the entire humanity. She said that MQI under the leadership of Dr Tahir-ul-Qadr is serving humanity in different walks of life, stating that we stand by them in their noble work. She said that we are thankful to Brig. (r ) Iqbal Ahmad Khan, Jawad Hamid and Ghussan Jawad for their cooperation in the establishment of the blood bank.
Dr Fozia said that no harmful effects are associated with the blood donations. She said that we have suggested a piece of legislation in the Punjab Assembly for the treatment and elimination of Thelesmia in the country. She said that we would defeat this disease with our spirit of sacrifice.
Dr Noor-uz-Zaman said on the occasion that accidents is one of the major reasons of deaths in the world. He said that people die due to the massive loss of blood. She said that one can donate one's blood four times a year and this is perfectly healthy. He said that it is the injection of the blood that keeps the Thelemsia patients alive, stating that blood donation is a kind of zakat of the body. He said that Red Crescent Pakistan is rendering service to the patients round the clock.
MQI leader Brig. (r ) Iqbal Ahmad Khan stated in his views that the students studying in the MQI educational institutions are not only aware of the importance of blood donation but also actively take part in such activities. He said that blood camps are held regularly under the MQI platform. He said that every youth should get his blood screened and be aware of his blood group.