Collective sacrifice 2019 under MWF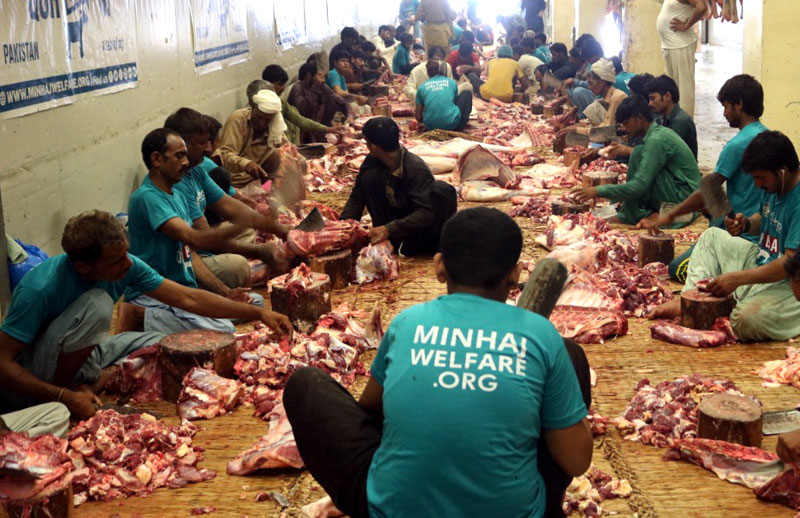 Thousands of animals were sacrificed throughout the country on the occasion of Eid-ul-Azha under the banner of Minhaj Welfare Foundation. MWF had made vast and efficient arrangements for the on-time distribution of the meat. The volunteers of MWF made sure that the deserving and poor people are provided meat at their doorsteps. More than 35 sub-committees were set up under the supervision of Director MWF Amjad Ali Shah that worked hard to deliver the meat to the deserving families along with the message of greetings of Dr. Tahir-ul-Qadri.
MQI Secretary General Khurram Nawaz Gandapur said that the people from Europe, Middle East, and Pakistan who reposed their faith in MWF, the Foundation rose to the occasion and fulfilled their expectations. He said that no deserving person was allowed to go back empty-handed. He said that all the volunteers and workers who actively participated in this pious work of the meat distribution deserve to be appreciated for their dedication.

On the occasion of meat distribution among the deserving people, MWF Director Syed Amjad Shah said that the Foundation is working on several projects of public welfare in the realms of health and education under the patronage of Dr Tahir-ul-Qadri. He said that including the poor in the happiness of Eid was is our religious responsibility. He said that we express our gratitude to Allah Almighty Who enabled us to bring smiles on the faces of the poor.
Jawad Hamid said on the occasion that MWF is a wonderful institution dedicated to serving humanity. He said that the organization continues to be at the forefront of efforts to assist the people in acute need. He said that the service of suffering humanity is the source of great contentment and peace of mind, something that no act can rival.