Dr Tahir-ul-Qadri grieved on the death of Mian Mumtaz's young son
MQI leader Dr Muhammad Tahir-ul-Qadri has expressed his deep sense of grief and sorrow on the untimely death of Raza-ul-Mustafa, the young son of MQI life member Mian Mumtaz. In his talk with bereaved father, Dr Qadri said that life and death are in the power of Allah and whosoever comes to the world has to go back to his/her Creator at an appointed time.
Meanwhile, funeral prayer for Raza-ul-Mustafa was offered at the central secretariat of MQI. President MQI Dr Hussain Mohi-ud-Din Qadri made the Dua for the departed soul and expressed condolences to the bereaved family on behalf of MQI. Khurram Nawaz Gandapur, Allama Rana Muhammad Idrees, Noorullah Siddiqui, Raja Zahid Mahmood, Ahmad Nawaz Anjum, Jawad Hamid, Abdur Rehman, Hafiz Ghulam Farid, Sajid Mahmood Bhatti, Rashid Hameed Kalyami, Shahzad Rasool and a large number of workers and leaders of PAT and MQI attended the funeral prayer.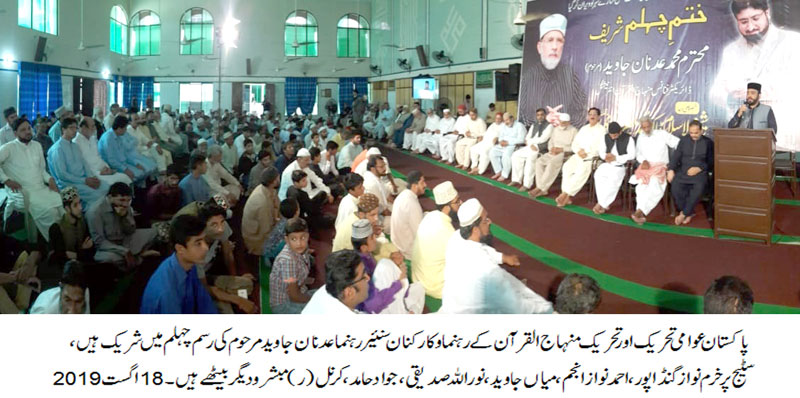 Meanwhile, a ceremony marking the 'Rasm-e-Chehlum' of MQI Director Finance Adnan Javed was held. Shaykh-ul-Islam Dr Muhammad Tahir-ul-Qadri delivered a talk on the audio link. He paid rich tributes to late Adnan Javed for his honesty, dedication, and excellent manners. He said that despite being posted on a sensitive position in the MQI, Adan was sociable and would extend respect and courtesy to all. He said that the life of this world is temporary and those who show good manners will not only succeed in this world but also in the hereafter.
The hundreds of MQI workers attended the Chehlum ceremony of late Adnan Javed. Quran khawani was held on the occasion and a Dua was made for the departed soul.