PM Imran Khan appreciates three COSIS students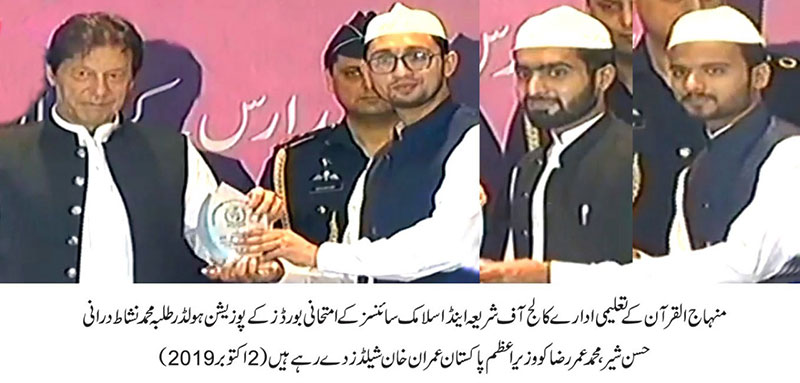 Prime Minister Imran Khan invited three COSIS students, Muhammad Nishat Durrani, Hussain Sher, and Muhammad Umer Raza to the PM House to laud them for bagging top positions in the Board and University examinations. They won positions in intermediate, BS Arabic Studies and BS Islamic Studies.
Expressing his delight on the honour won by the College students, Principal COSIS Dr Mumtaz-ul-Hassan Barvi said we are extremely pleased that the government has lauded the performance of the students belonging to the educational institution set up by Dr Tahir-ul-Qadri and appreciated the standards of teaching at the COSIS. He said that it is the only institution of Pakistan which is affiliated with the world-famed Al-Azhar University and its students go to different countries including Egypt for acquiring higher education.
Dr Mumtaz-ul-Hassan said that hundreds of graduates of the College are rendering their services in multiple fields not only in Pakistan but also abroad. He said in addition to the blend of education in religious and contemporary sciences imparted here, the College also focuses on character building and moral education, something that distinguishes it from other educational institutions.
During his visit to the College, Federal Minister for Education and Professional Training Shafqat Mahmood appreciated the services of COSIS and said the kind of educational reforms and system the government intends to introduce in the religious seminaries, this institution of Dr Tahir-ul-Qadri has enforced it for a long time. He said the government wants the students also get an opportunity to equip themselves with modern-day education and get degrees that enable them to find employment as well as earn respect.
The Federal Minister said that Boards of religious seminaries of all schools of thought are extending their cooperation in the task of mainstreaming Madaris, adding that with the cooperation of religious scholars, we will succeed in making the students of seminaries into dignified and responsible citizens and successful professionals.