Minhaj Publications puts up a stall at International Book Festival in Karachi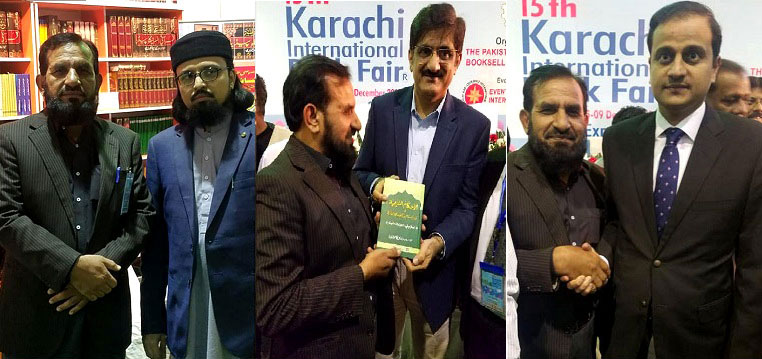 The bookstall set up by Minhaj-ul-Quran Publications was the centre of attention at the five-day-long International Book Festival in Expo Centre Karachi. All the previous records of sales were smashed. The demand of Dr Tahir-ul-Qadri's books namely the historic Quranic Encyclopedia, Peace Curriculum, Quranic Philosophy of Revolution and Al-Minhaj al-Sawi min al-Hadith al-Nabawi has increased manifold.
Chief Minister Sindh Sayyid Murad Ali Shah, Murtaza Wahab, Dr Meraj ul Huda, Mufti Amir, Muhammad Hussain Mehanti, Syed Zafar Iqbal Shah, Mirza Junaid Ali, Mufti Mukarram Qadri, Allama Ishtaiq Shad, Ilyas Mughal and other visited the stall of Minhaj Publications and appreciated the scholarly contributions made by Dr Tahir-ul-Qadri. They said Dr Qadri is a pride not only for Pakistan but also for the entire Muslim world. They said scholars like Dr Tahir-ul-Qadri are presenting the peaceful face of Islam and Pakistan to the world through their character and knowledge, stating their efforts for the interfaith harmony are promoting brotherhood, peace, and love. They said scholarly people like Dr Qadri are born after centuries.
Thousands of people including politicians, social activists, journalists, lawyer-leaders and students visited the stall of Minhaj Publications and took a keen interest in the books put on the display.