Calligrapher of Prophet's Mosque Shafique-uz-Zaman visits MQI secretariat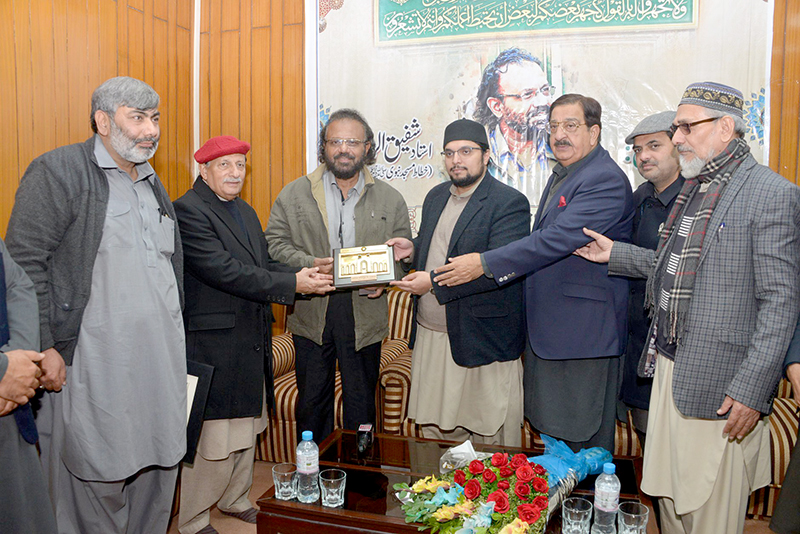 Shafique-uz-Zaman, a great calligrapher of international repute, visited the central secretariat of MQI and held a meeting with MQI President Dr Hussain Mohi-ud-Din Qadri. Brig. (r) Iqbal Ahmad Khan, Khurram Nawaz Gandapur, GM Malik, Engineer Muhammad Saleem, Jawad Hamid, Khawaja Hasnain, Sayyid Amjad Ali Shah, Allama Rana Muhammad Idrees, and others were present in the meeting. It is important to mention that Shafique-uz-Zaman is a legendary calligrapher who brought laurels to Pakistan through his expertise and gave a new dimension to the craft.
Dr Hussain Mohi-ud-Din Qadri welcomed Shafique-uz-Zaman on his arrival at the central secretariat in Model Town. Speaking on the occasion, MQI President said no other nation tried to bring about finesse and excellence in their lexigraphy as Muslim calligraphers have. He said legendary Shafique-uz-Zaman has his unique identity in the craft of calligraphy, stating that he is held in high esteem throughout the world due to his skills and personality. He said that it is the singular honor of Shafique-uz-Zaman that he has been rendering service in the Two Holy Mosques as a calligrapher for the last three decades. He said the inscriptions over the sacred railings of the Holy Prophet's chamber in Madina are the calligraphic work done by Shafique-uz-Zaman, which is a matter of immense honor. He said the Pakistani calligrapher has demonstrated his art in other countries as well.
Shafique-uz-Zaman presented the model of his calligraphy of Surah Muhammad (peace and blessings be upon him) to MQI President Dr Hussain Mohi-ud-Din Qadri for the central Minhaj-ul-Quran Mosque in Model Town. He also visited various directorates of the secretariat and appreciated the beautiful calligraphy done in Farid-e-Millat Research Institute (FMRi). Presenting his tributes to Dr Tahri-ul-Qadri for his meritorious services, he prayed for his good health and long life. He also had a word of praise for MQI for promoting interfaith harmony and tolerance in Pakistan as well as abroad.
In his views on the occasion, Shafique-uz-Zaman said that Muslims countries including the government of Pakistan should patronize the calligraphy. He said one way of doing it is to declare it as a discipline so that the succeeding generations could be motivated to learn it.
Dr Hussain Mohi-ud-Din Qadri invited Shafique-uz-Zaman to inaugurate Shaykh-ul-Islam Institute of Spiritual Studies that has been constructed inside Minhaj University Lahore which he happily accepted. Shafique-uz-Zaman will also deliver a special lecture to the students of MUL on the art of calligraphy and also hold a session with the teachers.