Minhaj University Lahore: Seekers Club organizes Sirat Conference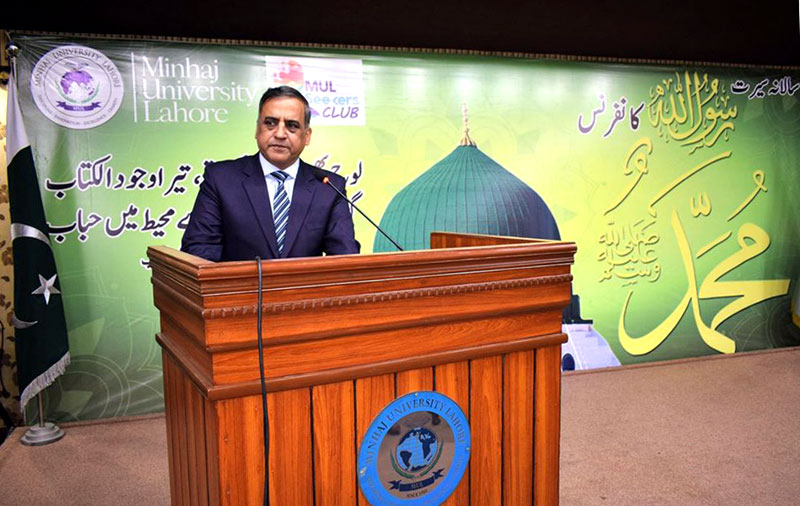 Minhaj University Lahore's Seekers Club headed by Ms. Ammara Qadri organized an annual Sirat Conference ﷺ. Vice-Chancellor MUL Dr Sajid Mahmood Shahzad was the keynote speaker at the event.
Dr. Sajid Mahmood Shahzad, while speaking on the occasion said,'' Islam has given laws based on the Book of Allah, which were preached and practiced by the last Messenger of Allah (peace and blessings be upon him). These laws guarantee the rights of human beings, their life, and property, their honor, and prestige, security and peace."
The Vice-Chancellor said that the social system based upon these principles has been working successfully until the present times. In these comprehensive principles, the divine guidance given to mankind is to purify their life and lay the foundation of a healthy, pious and chaste society in which people can live in peace and happiness. These are the distinctive features of the society set up by the Holy Prophet (peace and blessings be upon him), which promises honor, peace, and security to every human being living in it.
Dr Sajid Mahmood Shahzad asked as to who says that Minhajians are not talented. He said in one of the Arabic declamation contests held at Islamabad on December 18, Attiq-ur-Rahman, a student of MUL, stood first in Pakistan. God willingly, many more will be there from Minhaj University Lahore, he concluded.