GM Malik gifts Quranic Encyclopedia to Chaudhry Pervez Elahi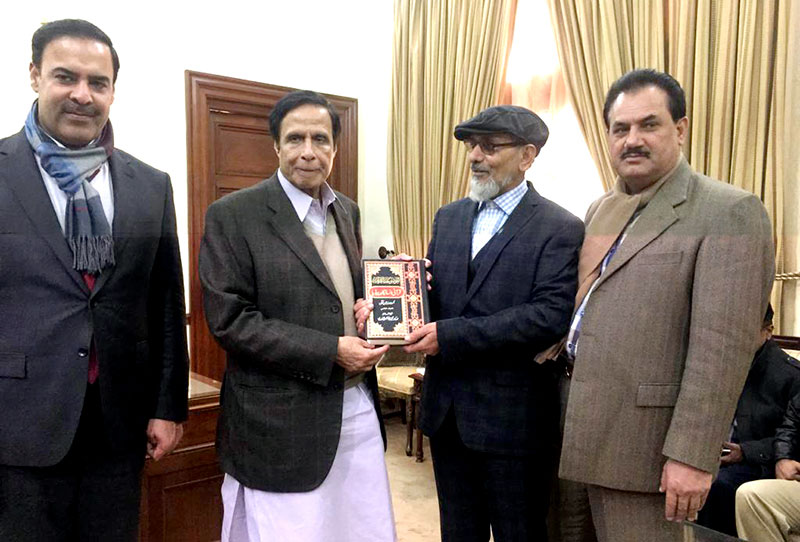 GM Malik, principal secretary to Shaykh-ul-Islam and Director Foreign Affairs MQI, met with Chaudhry Pervez Elahi, Speaker Punjab Assembly and the former Chief Minister Punjab in the assembly secretariat and gifted him the 8-volume Quranic Encyclopedia authored by Dr Muhammad Tahir-ul-Qadri.
Throwing light on the main characteristics of the Encyclopedia, GM Malik told the Speaker Punjab Assembly that 20,000 topics have been covered in eight volumes. He said Dr Tahir-ul-Qadri described the Holy Quran as a panacea of all the problems in line with the traditions of our forefathers, stating that it is for this reason that he described his struggle as Minhaj-ul-Quran, which means the path of the Holy Quran.
GM Malik said Dr Tahir-ul-Qadri has presented the solutions of all problems in the Encyclopedia in the light of the Quranic commandments. Speaking on the occasion, Chaudhry Pervez Elahi said the Quranic Encyclopedia is a unique scholarly contribution of Dr Qadri to the body of knowledge on the Quranic sciences. He said the services of MQI leader for Islamic world are unforgettable. He said Dr Qadri always raised a voice against terrorism and extremism.
Chaudhry Pervez Elahi thanked GM Malik on gifting him the Quranic Encyclopedia and prayed for good health and long life of Dr Tahir-ul-Qadri. Secretary Punjab Assembly Muhammad Khan Bhatti and Director General Research Inayatullah Lak were also present in the meeting.