Training & educating youth a shared responsibility of parents & religious scholars: Dr Hussain Mohi-ud-Din Qadri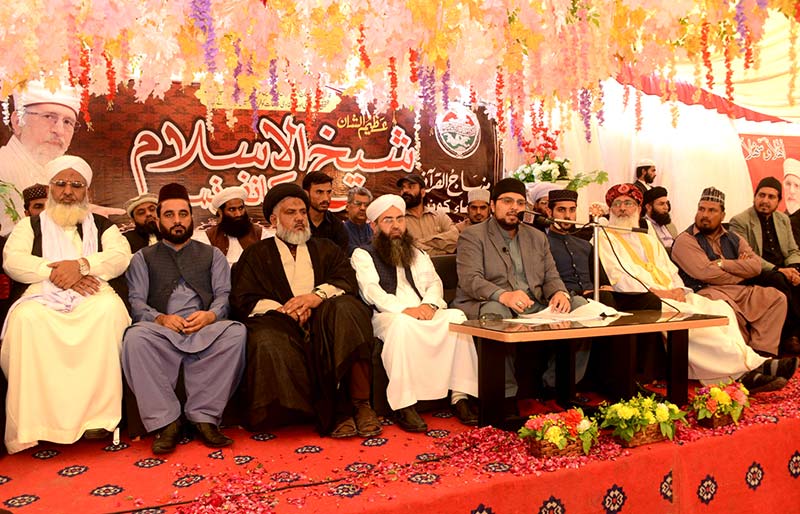 Addressing "Ittihad-e-Ummat" Conference held under the banner of Minhaj-ul-Quran Ulama Council, MQI president Dr Hussain Mohi-ud-Din Qadri has said that there is a need to promote brotherhood, tolerance, and acceptance of each other's viewpoint in the society. He asked the Mashaykh and religious scholars to impart teaching of love, brotherhood, and forbearance from the pulpit. He said uniting the Muslim community is the responsibility of the religious scholars and dire need of the hour. He said Islam guarantees the protection of human rights and peaceful coexistence. He said sectarianism wrought grievous harm on Muslims, stating that the religious scholars can lead an effort to foster unity in the ranks of Muslims.
The religious scholars belonging to various schools of thought addressed the Conference. Those who spoke on the occasion included Maulana Abdul Sattar Niazi of Jamiat Ahle-Hadith, Allama Hassan Raza Naqvi of Wahdat-ul-Muslimeen, Allama Waseem-ul-Hassan Shah Hafizabadi, Mufti Muhammad Javed Noori of JUP Noorani, Maulana Mujahid Rasool, president of Sunni Tehreek Punjab, Allama Imdadullah Qadri, central president of Minhaj-ul-Quran Ulama Council, central General Secretary Allama Mir Asif Akbar, Allama Zawar Hussain, Allama Asim Makhdoom, Pir Sayyid Munir Saifi, Dr Mufti Karim Khan, Allama Muhammad Ashraf Saeedi, Allama Hafiz Tahir Zia, and Hafiz Ghulam Farid.

Dr Hussain Mohi-ud-Din Qadri said in his speech that in addition to education, imparting training to the youth and new generation on Islamic lines is a great challenge. He made an appeal to the parents, teachers and religious scholars to pay attention to this important matter. He said the MQI scholars are playing their role in the scholarly, spiritual and moral training of the youth.
Allama Waseem-ul-Hassan Shah said in his speech that Dr Tahir-ul-Qadri is a great proponent of unity among Muslims. He said the MQI leader bravely talked about unity and tolerance among various schools of thought when merely a simple act of hand-shaking will invite adverse decrees. He said Dr Qadri did not give people books but libraries full of books.
MWM leader Allama Hassan Raza Naqvi said that there is a lesson of unity in the ranks of Muslims that one gets from the books and the speeches of Dr Tahir-ul-Qadri. He said that Dr Qadri always talks about promoting peace, and love.
In their speeches, Allama Imdadullah Qadri and Allama Mir Asif Akbar shone a light on the scholarly and research contributions of Shaykh-ul-Islam such as the Quranic Encyclopedia, Hadith Encyclopedia, etc. The religious scholars stressed in their respective talks that we have to make sure that no enemy of Pakistan and Islam rends our brotherhood asunder. They said it was high time to work for unity among different schools of thought. They congratulated Minhaj-ul-Quran Ulama Council on hosting such a wonderful event, stating that such events also promote understanding and positive message.
The cake of 69th birthday of Dr Tahir-ul-Qadri was cut at the conclusion of the ceremony and Dua was made for peace, and progress of the country and the good health of Dr Tahir-ul-Qadri.