MQI spreading Quranic education through eLearning project: Dr Hussain Mohi-ud-Din Qadri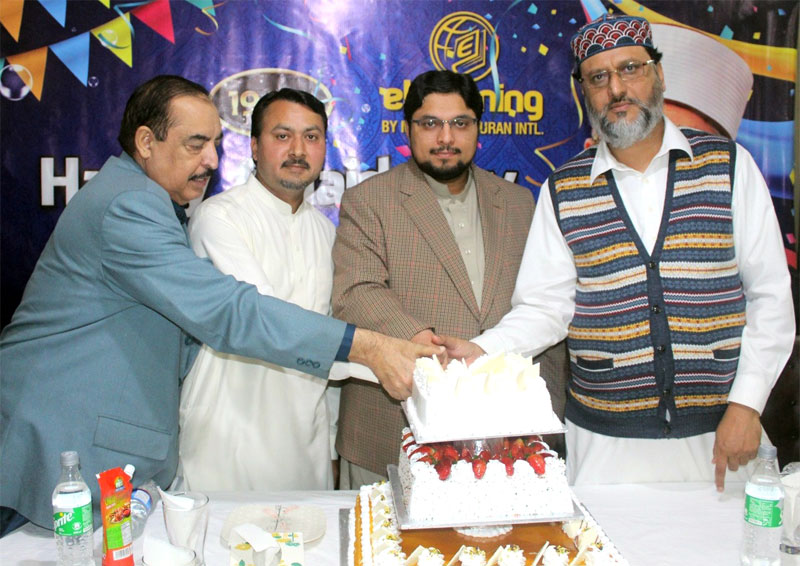 A cake marking the 69th birthday of Shaykh-ul-Islam Dr Muhammad Tahir-ul-Qadri was cut under the banner of the eLearning project of MQI. President MQI Dr Hussain Mohi-ud-Din Qadri was the special guest on the occasion, whereas central leaders of MQI, professors and staff members of COSIS were also present on the occasion.
Speaking on the occasion, Dr Hussain Mohi-ud-Din Qadri said the Quranic lessons are being delivered to the Muslim students across the world through the E-learning project. He said this modern technique of imparting Quranic education through the use of information technology is getting very popular.
Dr Hussain Mohi-ud-Din Qadri said MQI is among the foremost institutions that are using modern means of communication to spread the message of Islam in the world. He said many universities in the world are adopting e-learning as a preferred mode of instruction. He said the hundreds of students belonging to forty countries are taking lessons in different disciplines of the Quranic sciences through the qualified teachers.
Brig. (r) Iqbal Ahmad Khan, COSIS Principal Dr Mumtaz-ul-Hassan Barvi, Prof Muhammad Nawaz Zafar, Col. (r) Mehdi Hassan, Dr Muhammad Akram Rana and project director of eLearning Maqsood Ahmad Noshahi were also present on the occasion.