COVID-19: Dr Tahir-ul-Qadri to give recommendations on March 24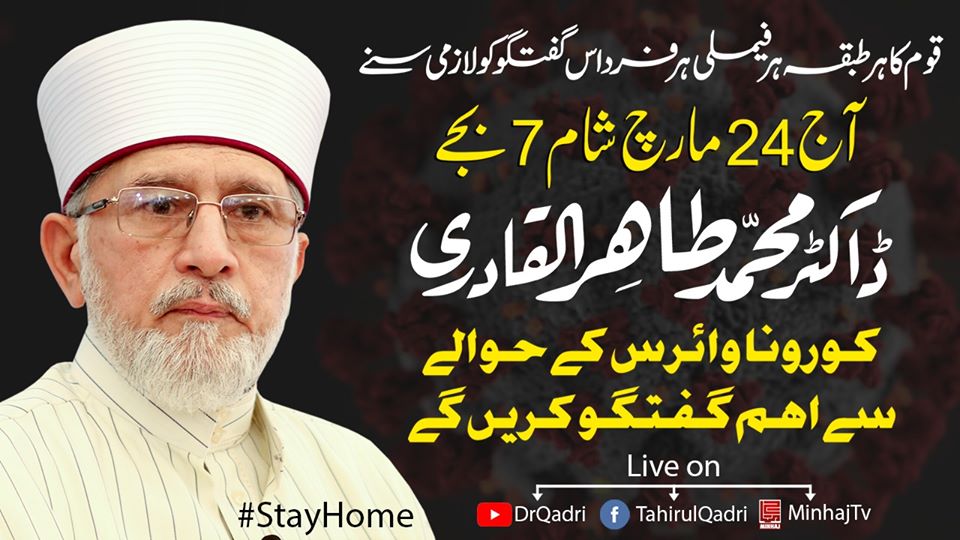 Shaykh-ul-Islam Dr Muhammad Tahir-ul-Qadri will give a special talk on the topic of Coronavirus and the lock-down on March 24 in which he would share his recommendations with the government. In a statement yesterday, he asked people belonging to different walks of life such as ministers, public health officials, religious scholars, administrative officials, anchorpersons, column writers, and the families to listen to his talk. He said he has been observing the post-corona situation for the last many days, stating that he considers it his national and religious duty to share his observations in the form of recommendations. He warned that the cost of the delay in taking the essential steps will be borne by the generations. He said it is no time to scare or be scared, making it clear that the situation calls for urgent and result-oriented actions.
Dr Tahir-ul-Qadri asked the social media activists and influencers to play their role in bucking up the nation during these dark times. He said the pandemic is upon us, leaving us with no option but to do everything possible to reduce its spread. Lauding Chinese example, he said it overcame the epidemic through effective strategy and national discipline. He said the havoc that COVID-19 is playing in Italy has to do with Italians not acting upon the precautions. He said we pray for the whole of humanity at this hour of trial and grief.
Dr Tahir-ul-Qadri also paid rich tributes to Dr Usma who laid down his life while treating the corona patients. He described his exemplary service as a role model for young doctors. He said the doctors, nurses and the medical staff serving the nation at this time in the unprotected environment are benefactors of the nation. He said the national purpose enables people to get through such trying times.