Dr Tahir-ul-Qadri's 40-day lecture series on Bukhari Sharif concludes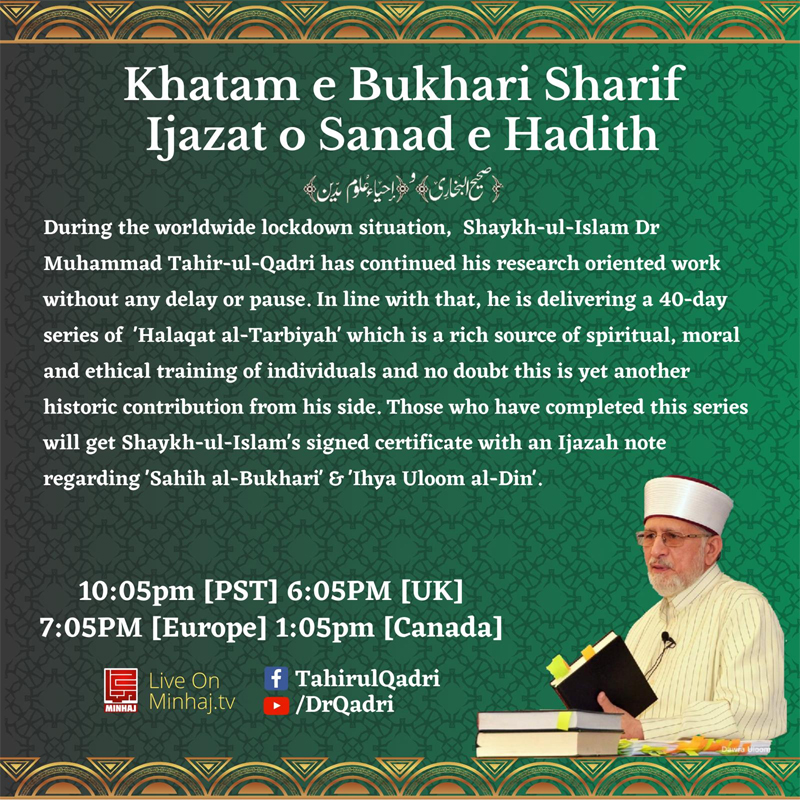 Founding leader of Minhaj-ul-Quran International Dr Muhammad Tahir-ul-Qadri will issue certificates on June 7 to more than 27 thousand people who registered to listen to his online lectures on Bokhari Sharif that continued for or 40 days uninterruptedly. Shaykh-ul-Islam delivered the lectures from the Sahih al-Bukhari and Ihyaʾ ʿUlum al-Din, the book of Imam al-Gazali (RA) on the subjects of moral reform and the etiquette of life during the lockdown and Corona pandemic. These lectures were greatly appreciated on social media.
More than 27000 people belonging to different walks of life such as religious scholars, Mahsaykh, professors, heads of departments, and the youth got themselves registered for the online lectures, whereas the number of those who listened to them without registration is the double of the registered people.
Secretary-General MQI Khurram Nawaz Gandapur stated that Shaykh-ul-Islam Dr Muhammad Tahir-ul-Qadri has chronicled a new chapter in history by delivering lectures continuously for 40 days. He said that the hundreds of thousands of people not only listened to these scholarly lectures but also greatly lauded them. He said that Dr Tahir-ul-Qadri has dedicated himself to the mission of spiritual and moral reform of the Muslim community.
Khurram Nawaz Gandapur said that it is a matter of great satisfaction and pleasure that among the people who listened to the online lectures, a major chunk of them consisted of the religious scholars and the youth. He further said that Dr Qadri will deliver a special address on the occasion of 'khatam of Bukhari Sharif on the 7th of June.