Arrangements made for collective sacrifice under MWF: Syed Amjad Ali Shah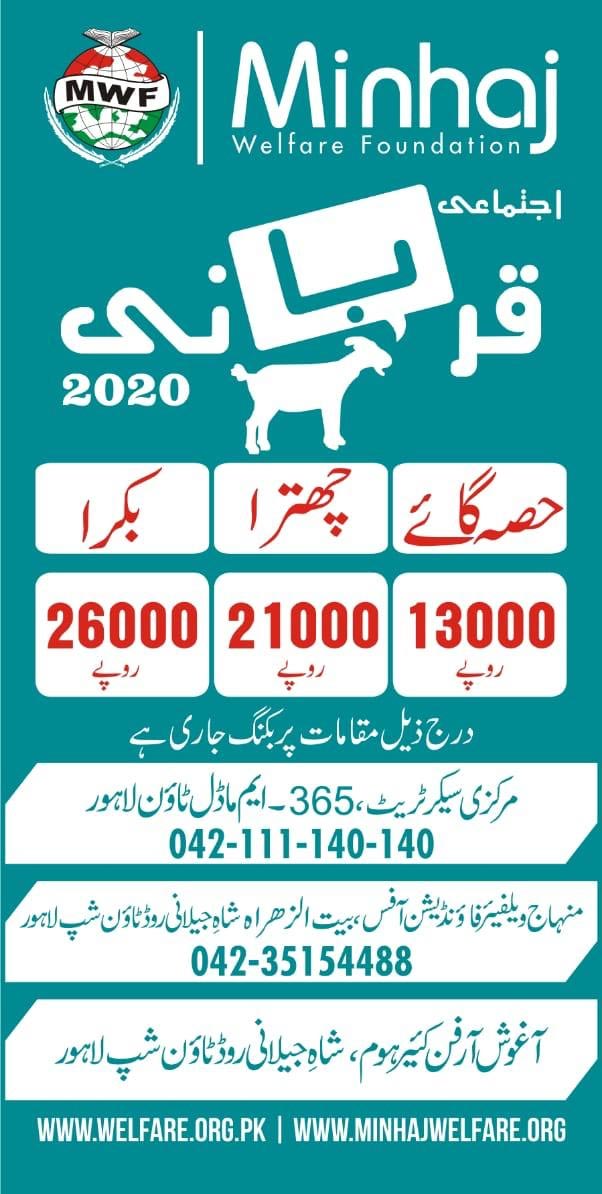 Syed Amjad Ali Shah, Director of Minhaj Welfare Foundation (MWF), has said that the MWF has launched the collective sacrificial campaign this year too like the practice of the previous years. The share of meat in a cow, lamb, and goat has been fixed at Rs. 13 thousand, 21 thousand, and 26 thousand respectively. He said that due to the ongoing corona pandemic, the government has also asked for collective sacrifice. He said that MWF has set up a special helpline for the facilitation of the overseas Pakistanis in connection with the sacrifice, stating this facility is also available to people living in Pakistan as well.
Syed Amjad Ali Shah said that people can reserve their share by calling 042-111-140-140, 042-35154488 and 042-35116790. He said MWF has made excellent arrangements for sacrifice under the patronage of Shaykh-ul-Islam Dr Muhammad Tahir-ul-Qadri. It includes modern-day slaughterhouse, slaughtering of the animals in line with the best precautions, and the distribution of meat among the deserving within the shortest possible time. He said thousands of volunteers perform their duties during the Eid days. He said that the chillers are used for the preservation and distribution of the meat of the slaughtered animals.