MQI delegation condoles the death of Pir Shah Abdul Haq with his sons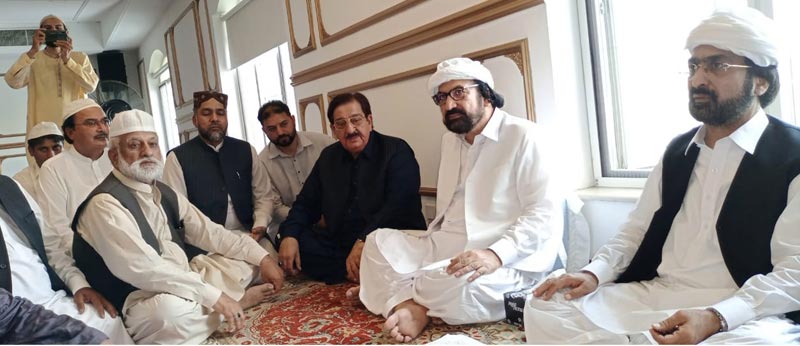 A senior-level delegation of Minhaj-ul-Quran International (MQI) led by Nazim-e-Aala Khurram Nawaz Gandapur condoled with Pir Sayyid Moin-ul-Haq and Pir Sayyid Qutb-ul-Haq in Golra Sharif, Islamabad, on the death of scholarly, spiritual and literary personality Hazrat Pir Shah Abdul Haq, popularly known as Lala Ji. The delegation also conveyed the condolence message of Shaykh-ul-Islam Dr Muhammad Tahir-ul-Qadri to the sons of Pir sahib. The members of the delegation expressed their condolences individually and then offered Fateha collectively for the departed soul.
Pay his rich tributes to the multi-dimensional services of Pir Shah Abdul Haq sahib, Khurram Nawaz Gandapur said that Pir Shah Abdul Haq was a great spiritual and literary asset of the Islamic world. He said that with the death of Pir sahib, the world of Islam has been deprived of a great scholar, a literary figure, and a spiritual mentor. He said that we share the grief of the bereaved family and the followers on his death.
Meanwhile, the leaders of Minhaj-ul-Quran International visited the graves of Pir Shah Abdul Haq, Pir Sayyid Naseeruddin Naseer and Pir Sayyid Meher Ali Shah (RA) and laid the floral wreath there and offered Fateha. The delegation consisted of senior leaders Mir Ishtiaq Ahmad advocate, Muhammad Hafiz Awan Advocate, Abrar Raza advocate, Raja Munir Ejaz, Hamza Butt, Zia Rasul Butt, Iftikhar Gujjar, Raja Asadullah, Javed Jajja, Allama Qari Ehsan Qadir.