The meeting of Majlis-e-Aamila held at MQI secretariat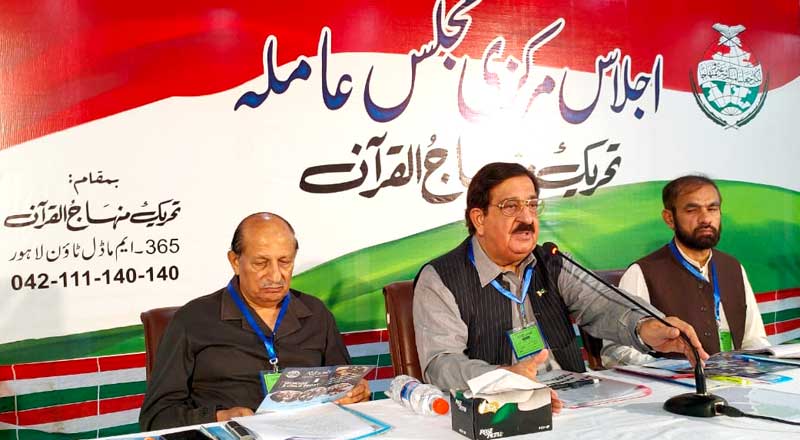 A meeting of Majlis-e-Aamila was held at the central secretariat which was attended by MQI Secretary General Khurram Nawaz Gandapur, vice president Brig. (r ) Iqbal Ahmad Khn, all heads, deputy heads of different directorates and departments as well as the members of Majlis-e-Aamila. The progress report of the departments was presented in the meeting. The participants made a vow to make Pakistan the hub of peace and knowledge and to render social, religious and welfare services in the light of the vision of Dr Muhammad Tahir-ul-Qadri.
Khurram Nawaz Gandapur and Brig. (r ) Iqbal Ahmad Khan gave the initial briefing and said the MQI is the only revivalist, religious and spiritual organization of Pakistan that has its branches in more than 100 countries of the world. They said the MQI played a tremendous role in the war against terrorism and extremism and promoted the Islamic message of peace, love and brotherhood in the world. They said the MQI logically and rationally rebutted all the allegations of extremism and terrorism that Islam was being subjected to.
The MQI leaders said that Minhaj-ul-Quran is the only organization that is not only engaged in moral, spiritual, and religious activities but is also promoting the welfare of suffering humanity under its global banner. It has run various flagship projects in Pakistan and around the world to lessen the worries and hardships of the less privileged sections of society.
Briefing the meeting of Majlis-e-Aamila, Vice-Chancellor of Minhaj University Lahore, Dr Sajid Mahmood Shahzad, that the University did not fire even a single employee during the Corona pandemic and gave a concession of Rs. 30 million to the students in their fees. He said MUL is the fast developing University in the private sector.
The participants of Majlis-e-Aamila paid rich tributes to Dr Hassan Mohi-ud-Din Qadri on his role in leading MQI's effective global role and Dr Hussain Mohi-ud-Din Qadri on his wonderful performance in the educational field. Brig. (r) Iqbal Ahmad Khan, Khurram Nawaz Gandapur, Muhammad Rafique Najam, Rana Muhammad Idrees, Sardar Shakir Mazari, Ahmad Nawaz Anjum, GM Malik, Dr Mumtaz ul Hassan Barvi, Noorullah Siddiqui, Syed Amjad Ali Shah, Mazhar Mahmood Alvi, Mirza Junaid, Irfan Yousaf, Arif Chaudhry, Sidra Karamat, Col (r ) Muhammad Mubasher, Allama Mir Asif Akbar, Prof Muhammad Saleem Chaudhry, and Hafiz Muhammad Waqas presented the performance reports of their respective departments and zones in the meeting.
The meeting concluded with Dua for those who lost their lives in the recent rains and floods.