MQI's 40th foundation day to be celebrated on October 17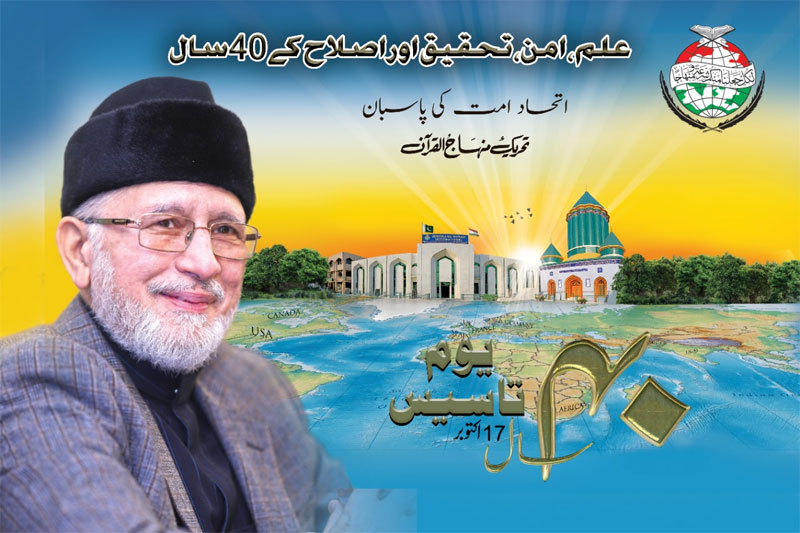 The 40th foundation day of Minhaj-ul-Quran International will be celebrated across 100 countries of the world including Pakistan on October 17. The MQI chapters will hold seminars and foundation-day ceremonies to pay tributes to Dr Tahir-ul-Qadri for his struggle over the last four decades. The central foundation day ceremony will be held at the central secretariat in which leading religious, political, and scholarly personalities will speak. The ceremonies will highlight MQI's services in promoting peace, knowledge, and interfaith harmony in the world. The cakes will be cut and special Dua will be made for a long and healthy life of Dr Tahir-ul-Qadri and peace and progress of the country.
A special meeting was held at the central secretariat to review the arrangements of the foundation-day ceremony, which was attended by Secretary-General Khurram Nawaz Gandapur, Brig. (r ) Iqbal Ahmad Khan, Muhammad Rafique Najam, GM Malik, Allama Rana Muhammad Idrees, Noorullah Siddiqui, Jawad Hamid, Mazhar Alvi, Irfan Yousaf, Sidra Karamat, Hafiz Ghulam Farid, Ishtiaq Hanif Mughal, Shahzad Rasool, Arif Chaudhry etc.
Speaking on the occasion, Khurram Nawaz Gandapur said a 40-year journey of MQI has been dedicated to the promotion of the Islamic message of peace, and love, reform of society, and the establishment of an egalitarian society. He said MQI has played a tremendous role in promoting a culture of knowledge and interfaith and inter-sect peace and harmony. It also ignited love in the hearts of the youth for Pakistan and Islam. He said the organizational network of MQI has spread across 100 countries of the world in a span of four decades and the followers of Dr Tahir-ul-Qadri are spreading the light of knowledge and love as ambassadors of peace. He said there is a consistency in the thought and policies of MQI despite the passage of 40 years, adding that the movement continues to stay on the path and philosophy on which it was founded.