NAB officials attend a seminar at Minhaj University Lahore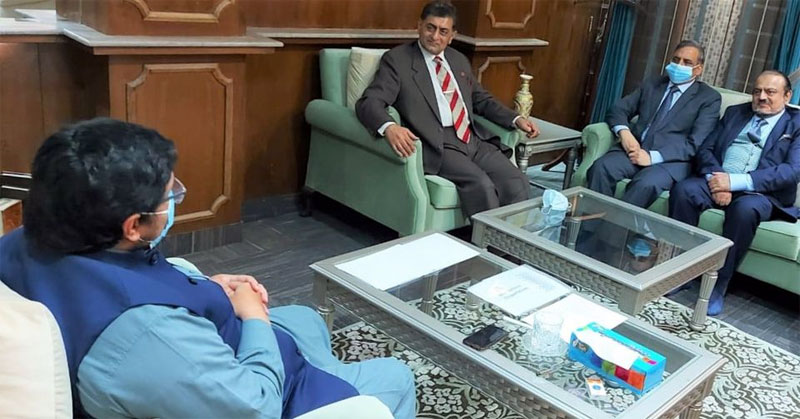 Director NAB Lahore Muhammad Rafique Memon and Deputy Director Attiya Azmat visited Minhaj University Lahore and attended a seminar held on the subject of "Corruption & its Effects on Society". They appreciated the efforts of Chairman BOG MUL, Dr. Muhammad Tahir-ul-Qadri to fight the menace of corruption in society. They said awareness is key to fighting corruption and Dr Qadri has done tremendous work in this field.
After the seminar, they met with Deputy Chairman, Board of Governors, Dr. Hussain Mohi-ud-Din Qadri in his office. Vice Chancellor MUL Dr. Sajid Mahmood Shahzad was also present at the occasion.
Dr. Hussain Mohi-ud-Din Qadri presented them the books of the Chief Executive and Chairman Board of Governors Shaykh-ul-Islam Dr. Muhammad Tahir-ul-Qadri. The NAB team admired the services of MUL for the promotion of education in Pakistan.
MUL arranged a seminar on "Corruption and its ill Effects on Society". Worthy VC, Dr, Sajid Mehmood Shahzad, A Team of NAB, headed by Director NAB Lahore M. Rafique Memon, Dy Director NAB Atiya Azmat, University Officials, Faculty members, & students participated in the seminar.. pic.twitter.com/jufcSxh8QK

— Minhaj University Lahore (@OfficialMUL) October 21, 2020
A team of NAB headed by Director NAB visited the MUL. NAB officials, Director M. Rafique & Dy Director NAB Atiya met the worthy VC Dr, S M Shahzad in his office. Director NAB also met the team members of Seekers Club & also administered the oath to the newly elected members pic.twitter.com/MRVqKNT9aW

— Minhaj University Lahore (@OfficialMUL) October 21, 2020