Canada: MYL holds Mawlid-un-Nabi (pbuh) Conference for the youth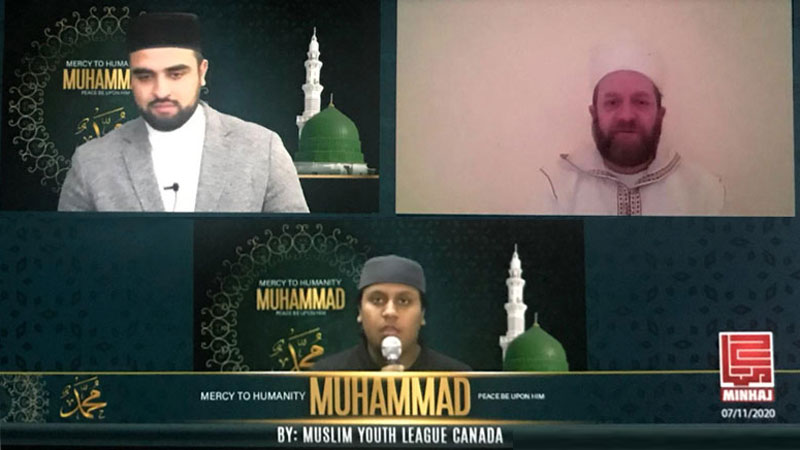 In the blessed month of Rabi-ul-Awwal, Muslim Youth League (Canada) organized an event on Nov 7 for the youth in celebrating the Mawlid-un-Nabi (pbuh) titled "Muhammad (pbuh), the Mercy to Humanity." The ceremony was presided over by Shaykh Abdullah Raja (president MYL Canada) and Youssef Bilal (General Secretary MYL Canada). The program was held online on the MYL youtube and Facebook pages- Spark of Ilm and was televised live on Minhaj TV as well.
The event went live at 1:30 p.m. Shaykh Abdullah Raja opened the proceedings and welcomed all to the ceremony. He introduced the two MCs for the day, Shaikh Ibrahim and Talha Kamran. Talha introduced and took the program forward with his introductory speech and later he welcomed Qari Shafiq Naeemi Al-Azhari to recite his beautiful recitation who recited the verses from Surah Al-Ahzab.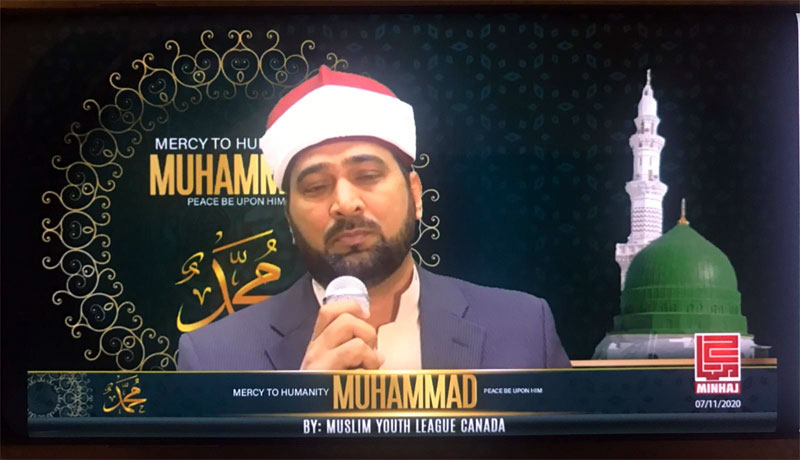 Brother Ibrahim did the translation and shared some hadiths and Ayah's along with the translation as well. He then introduced Muzammil Shariff, an Executive member of MYL Canada, to share the aims and objectives of MYL Canada. He stated: "We take immense pride in hosting the Milad event and also make you a part of our happiness and celebrations in glorifying the best of the creation in the whole universe, our beloved Prophet Muhammad (pbuh).
Muslim Youth League Canada is a budding organization that has been working for the promotion of MQI's core message of peace, love, interfaith harmony and dialogue, and the betterment of the Umma in both the spiritual and welfare aspects. It works towards the moral training of individuals on many aspects such as spirituality, morality, character and also helps them in terms of their individual well-being in this materialistic age.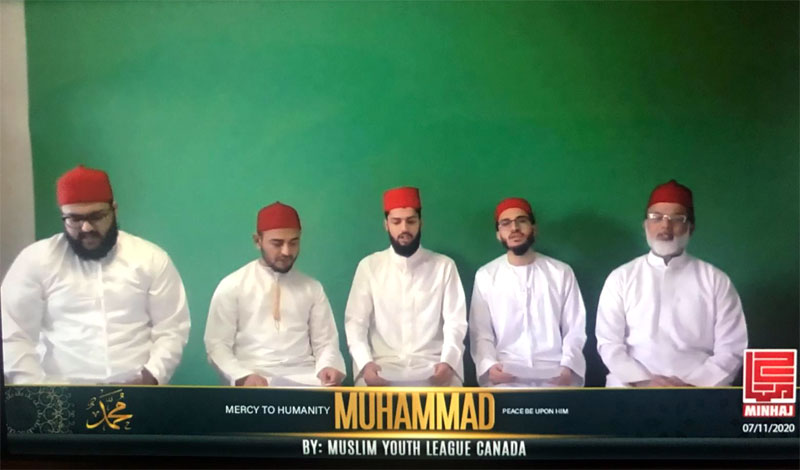 A Nasheed group from Vancouver recited Qasida-e-Burda sharif and naats in the praise of the Holy Prophet (pbuh) followed by Milad Raza Qadri who joined the gathering from Azad Kashmir. His melodious voice added to the festivity of the occasion.
Talha Kamran introduced Shaykh Muhammad Yahya Al-Ninowi, founder of Madinah Institute and a world-renowned scholar who joined the ceremony live from the blessed city of Madinah al Munawwara for an address, The Shaykh emphasized the love of and Seerah of the Holy Prophet (pbuh) and showed us that how Allah Subhan loves his best of creation, His beloved Prophet (pbuh). He mentioned the traditions wherein we were asked to love the Holy Prophet (pbuh) more than any other creation in the world. He explained how the holy companions loved Rasulullah (pbuh) followed by Dua.
Abdullah Sheikh recited salutations and greetings on the Holy Prophet (pbuh) to conclude the ceremony.