Ulama Council delegation calls on Pir Sayyid Riaz Hussain Shah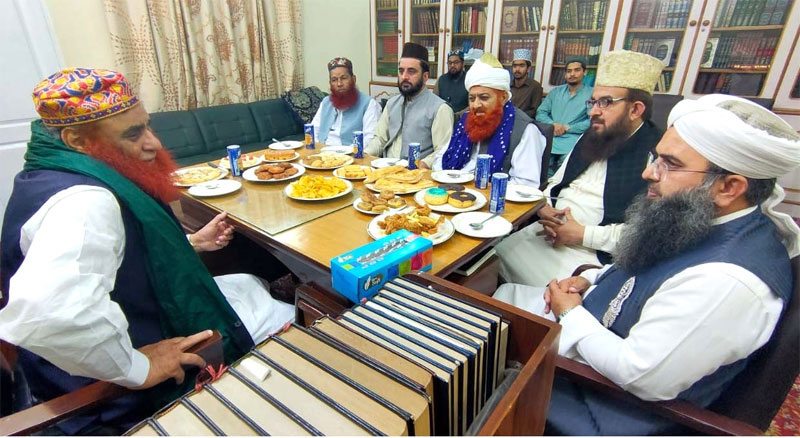 A delegation of Minhaj-ul-Quran Ulama Council called on Allama Pir Sayyid Riaz Hussain Shah, the head of Idara Talimat-e-Islamia Rawalpindi, and thanked him for attending International Mawlid-un-Nabi (pbuh) Conference in Lahore. They also gifted him a set o newly published books of Shaykh-ul-Islam Dr Muhammad Tahir-ul-Qadri.
Speaking on the occasion, Allama Pir Sayyid Riaz Hussain Shah said there is a need to work together for unity in the ranks of the Sunni school of thought. He said the religious scholars who subscribe to the Hussaini thought should get together under one platform to eliminate 'Yazidiyat and kharjiyat'. He appreciated the intellectual and scholarly services of Dr Tahir-ul-Qadri and said that Shaykh-ul-Islam has done amazing work for the young generation both in terms of his speeches and books.
Pir Sayyid Riaz Hussain Shah said that moral values are on the decline in the present age. He said some accidental leaders are promoting hatred, and extremism instead of the Sunni values of love, peace and tolerance. He said that serious leaders and Mashaykh need to promote the real teachings of Islam through unity and effective coordination in such circumstances.
The Ulama Council delegation included president Allama Mufti Imdadullah Qadri, Allama Mir Asif Akbar, Mufti Ghulam Asghar Siddiqui, Allama Khalil Ahmad Hanfi, and Allama Muhammad Usman Sialvi.