Chairman PHA visits Minhaj University Lahore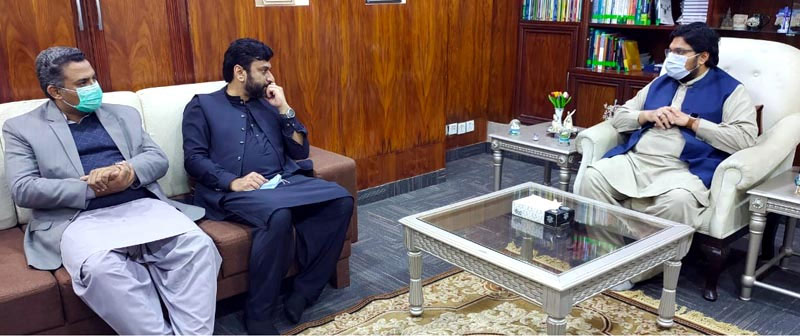 Chairman Parks and Horticulture Authority (PHA) Syed Yasir Gillani and vice-chairman Hafiz Zeeshan Rasheed visited Minhaj University Lahore and met with Dr Hussain Mohi-ud-Din Qadri, Deputy Chairman, BoG, MUL, and Vice-Chancellor MUL Dr Sajid Mahmood Shahzad.
Yasir Gillani and Hafiz Zeeshan Rasheed planted a sampling in the University. Speaking on the occasion, Chairman PHA said that the educational institutions should make the young generation aware of the importance of plantation. He appreciated MUL for its active role in the plantation drive and said that the plants play a major role in the healthy atmosphere. He said the government has adopted the plantation initiative as a mission and invested its political capital into it to make it a resourcing success. He said that Pakistan is an agricultural country and the forestation currently underway will make it even greener than before.
The PHA delegation visited different faculties and departments of Minhaj University Lahore. Director of Public Relations Lahore Shahzad Rasool, Haji Muhammad Ishaq, and Abdul Hafeez Chaudhry were also present on the occasion.
Talking to the delegation, Dr Hussain Mohi-ud-Din Qadri said that MUL is fulfilling its educational and social responsibilities in line with the contemporary demands. He said there are 13 faculties in the University in which experienced and enlightened teachers are imparting excellent education to the students. He said that we are moving ahead by blending the traditional with the modern, stating that purposeful education is on the top of our priorities.
Dr Hussain Mohi-ud-Din Qadri lauded the role of the Parks and Horticulture Authority in the beautification of Lahore and paid his rich tributes to the management and the workers of the Authority for working diligently.
Hafiz Zeeshan Rasheed, while stating on the occasion, said that MQI has been at the forefront of efforts to promote interfaith dialogue, harmony, and engagement between different schools of thought. He said he was particularly impressed by the School of Peace and Spiritualism established by MUL.
Dr Hussain Mohi-ud-Din Qadri presented to Syed Yasir Gillani and Hafiz Zeeshan Rasheed a set of books that he has written on different topics.