Honest people are the backbone of organizations: Dr Tahir-ul-Qadri
MQI founding leader Shaykh-ul-Islam Dr Muhammad Tahir-ul-Qadri has said that honest and trust-worthy people are the backbone of the movements and organizations. He said that those who live for an ideology and commit themselves to humanitarian causes remain alive even after their death. He said the Islamic teachings are hugely instructive for character building and truthfulness in one's sayings. He said that MQI set up institutions that are engaged in the task of imparting education and spiritual training whose graduates are rendering amazing services for Islam and Pakistan. He said that Sayyid Hidayat Rasool Shah Qadri was among the same lot of dedicated people.
Dr Tahir-ul-Qadri made these remarks while addressing a memorial reference held in the memory of senior MQI leader Sayyid Hidayat Rasool Shah (late). Paying rich tributes to him for his services, he said that purposeful education imparts the strength of character, adding that those who serve the religion and humanity are successful and Allah's favorite people.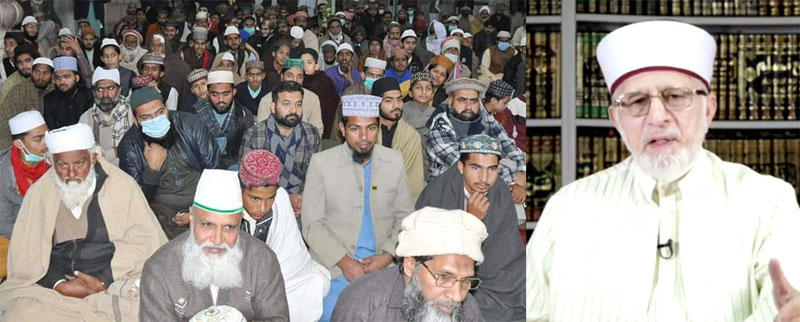 Those who addressed the memorial reference included Engineer Muhammad Rafique Najam, Mian Rehan Maqbool, MNA Sheikh Khurram Shahzad, MPA Shakeel Shahid, Sayyid Hamayat Rasool Qadri, Sayyid Shafaat Rasool Qadri, Sayyid Saadat Rasool, Sayyid Sadaqat Rasool, Usman Siddiqui, Mian Abdul Qadir, Rana Rab Nawaz Anjum, Mian Kashif Mahmood, Rana Tahir Saleem, Sayyid Jalal-ud-Din Rumi, Allama Aziz-ul-Hassan, Allama Nooruzzaman Noori, Umar Saeed Qadri, Ghulam Muhammad Qadri, Allah Rakha Naeem, Pir Anwar-ul-Haq, Allama Ghulam Murtaza, Allama Zafar Iqbal, Ghulam Mustafa Kamal, and Asif Aziz.
A large number of people belonging to various walks of life attended the memorial reference.