Minhaj Digital Encyclopedia team calls on Dr Hassan Mohi-ud-Din Qadri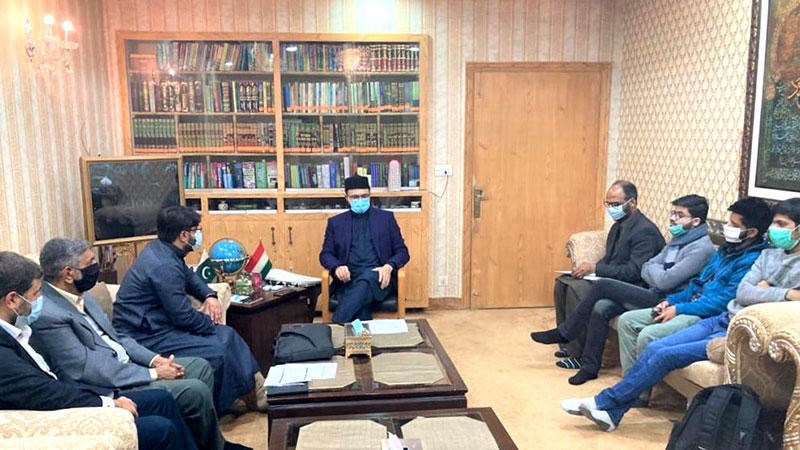 Chairman MQI Supreme Council Dr Hassan Mohi-ud-Din Qadri has said that the secret of humanity's progress lies in the acquisition of knowledge. He said no nation can progress without knowledge. He said if the Muslim world wants to regain its lost glory and reach the zenith of progress and prosperity, the only route available to it is that of knowledge. He said that knowledge is a fountain that will wash away all the problems of poverty, underdevelopment, and ignorance. He said there can be no enlightenment without knowledge.
Dr Hassan Mohi-ud-Din Qadri expressed these views while talking to the developing team of Minhaj Digital Encyclopedia (MDE). He said that the project of bringing all the research and scholarly work of Shaykh-ul-Islam together belongs to the Minhaj Digital Encyclopedia team. Under the project, all of Dr Tahir-ul-Qadri's published works, lectures, and speeches will be available on a single platform that will be accessed through a web and mobile application.
During the project briefing, Dr Hassan Mohi-ud-Din Qadri was informed of the key features of MDE. He was told that MDE is a splendid project that offers a fast search facility like Google, which will respond to search requests in no time. In addition to five thousand topics, the hundreds of books and speeches of Shaykh-ul-Islam are part of the Minhaj Digital Encyclopedia.
MDE will initially offer its services in Urdu, Arabic, and English languages and other languages will be included in due course of time. The project will be launched soon.
Those present in the meeting included MDE patron Asif Minhas, Hafiz Abdur Rauf, Muhammad Farooq Rana, Abdul Sattar Minhajian, Ajmal Ali Mujddadi, Shoaib Nazar, Sabir Hussain, Kashif Iqbal, Zain Iqbal, and Mujtaba Mushtaq.