Dr Hassan Mohi-ud-Din Qadri highlights the importance of social media tools for Dawah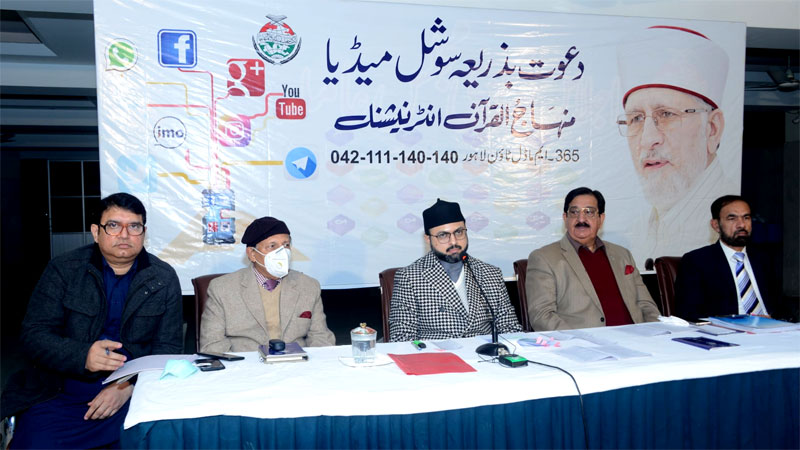 Addressing a conference on promoting Dawah through social media, Chairman MQI Supreme Council Dr Hassan Mohi-ud-Din Qadri has said that social media is the most effective means of communication to promote the objectives of character building, education, and human welfare in the contemporary age. He said that Shaykh-ul-Islam Dr Muhammad Tahir-ul-Qadri has always focused on the promotion of education, research, and preaching of religion in accordance with the requirements of every age and provided timely guidance to the people. He asked MQI workers, leaders, and associates to adopt modern means of communication, stating that conveying the message of truth to every person is our national and religious duty. He said the responsibility of Dawah is a great blessing and also the prophetic practice.
Dr Hassan Mohi-ud-Din Qadri said that the way pure blood is inevitable for a healthy body, the act of preaching has the same importance in the religious life. He said that the heart controls the human body and is a source of supplying clean blood to the entire physical system. This blood is also responsible for keeping all human organs functional and healthy. He said that the role of the founding leader is that of a heart in the body politic of organizations. A leader has his eyes on the whole system of the movement and wherever he spots any malfunction or deficiency, he promptly rectifies the situation.
Chairman MQI Supreme Council said that we are duty-bound to promote the Quaid's message of peace, love, and interfaith harmony through the use of modern tools of engagement today. He said the responsibility of making the young generation aware of this message is of utmost importance in this day and age.

Secretary-General Khurram Nawaz Gandapur, Dr Muhammad Rafique Najam, Noorullah Siddiqui, Allama Ghulam Murtaza Alvi, and Mian Abdul Qadri also addressed a social media conference. Vice President MQI Brig. (r) Iqbal Ahmad Khan was also present with the Chairman MQI Supreme Council at the stage. Qazi Zahid Hussain, central PAT President, attended the conference online. Ahmad Nawaz Anjum, Rana Muhammad Idrees, Syed Altaf Hussain Shah, Farah Naz, Sidra Karamat, Jawad Hamid, Haji Manzoor Hussain, Raja Muhammad Zahid, Mian Rehan Maqbool, Qazi Mazhar Fareed and other district and provincial leaders attended the conference.
Dr Hassan Mohi-ud-Din Qadri announced a special shield for MQI Lahore leader Habibullah Butt in recognition of his special services for MQI on the occasion. Khurram Nawaz Gandapur, Dr Muhammad Rafique Najam and Allama Ghulam Murtaza Alvi threw light on MQI's Vision 2025. Hafizullah Javed has been appointed a coordinator for the special desk that has been set up to employ social media for the purpose of Dawah.