40-year-old stagnation broken with new federal system for Madaris: Khurram Nawaz Gandapur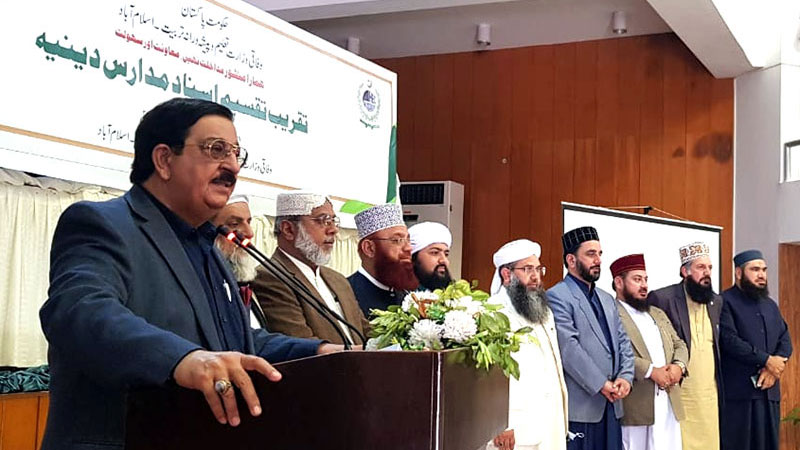 Addressing a ceremony held under the banner of the Federal Ministry of Education and Professional Training and Higher Education Commission, MQI Secretary General Khurram Nawaz Gandapur has said that MQI has got the Nizam-ul-Madaris Board. He said we welcome the government's grant of a federal status to the board for religious seminaries, stating that this historic decision has broken the 40-year old stagnation. He said this stagnation was a hindrance in the way of reform of the curriculum.
Khurram Nawaz Gandapur said that Islam is a religion of peace and peace. He said that students studying in the Madaris need to be taught the subjects of computer science, and modern sciences so that they not only serve religion well but also get honorable employment and play a productive role in society.
MQI Secretary General said that education not only in the religious sciences but also in contemporary subjects is being imparted in the institutions under the banner of MQI. He said that MQI founding leader Shaykh-ul-Islam Dr Muhammad Tahir-ul-Qadri blended classical and modern education together and it turned out to be a successful experiment. He said that with the establishment of new federal institutions, the scholarly esteem of the religious seminary will increase.
Khurram Nawaz Gandapur said that the steps such as registration of Madaris, provision of professional and technical education, the methodology of opening a bank account for the Madaris, comprehensive visa policy for foreign students, and the establishment of the cell with a mandate to address the complaints will help bring the religious seminaries in the mainstream and their prestige and honour will be restored.
The ceremony was also attended by Imdadullah Qadri, president of Nizam-ul-Madaris Pakistan, Nazim-e-Ala Mir Asif Akbar, and other faculty members.