A Seminar on Interfaith Harmony lauds Dr Tahir-ul-Qadri for his efforts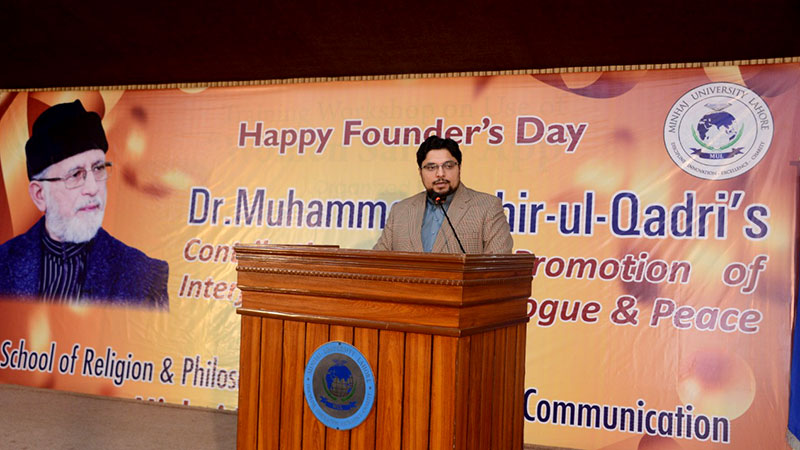 School of Religious and Philosophy, Minhaj University Lahore, organized a seminar on the contribution of Shaykh-ul-Islam Dr. Muhammad Tahir-ul-Qadri in the promotion of interfaith harmony. Honorable Deputy Chairman Board of Governors, Dr. Hussain Mohi-ud-Din Qadri, graced the occasion. Vice-chancellor, Dr. Sajid Mahmood Shahzad, Director Academics, Dr. Khurram Shahzad, Head School of Religious & Philosophy, Dr. Herman Robrogh, Director Interfaith Relations (MQI), Sohail Ahmed Raza, Dr. Josheph Paul Knight (USA), Revd. Jon David (USA), Mr. Miehael Shannon Crowe (USA), Ilyas Masih (USA), Dr. Ernest Fahim, Tanie Guy (USA), Mr. Timothy Alan (Australia), Pastor Anil John, Pastor Samuel, Shahzad Ahmad Khan, and a large number of guests participated in the seminar.
The speakers thew light on the challenges facing peace and stability in the world and stressed the importance of building bridges between various faiths, cultures, and civilizations. They said that the mantra of the clash of civilizations is deeply divisive and needs to be replaced by the dialogue among civilizations. They lauded the role of Dr Tahir-ul-Qadri in bringing the followers of different faiths and cultures together under the banner of our values and traditions. They highlighted the need for more such efforts, stating that Dr Tahir-ul-Qadri has shown us the way and we need to make interfaith harmony the mission of our lives in whatever we do in life.