FMRi holds a special ceremony on Quaid Day
MQI working for education & spiritual training of the youth: Dr Hassan Mohi-ud-Din Qadri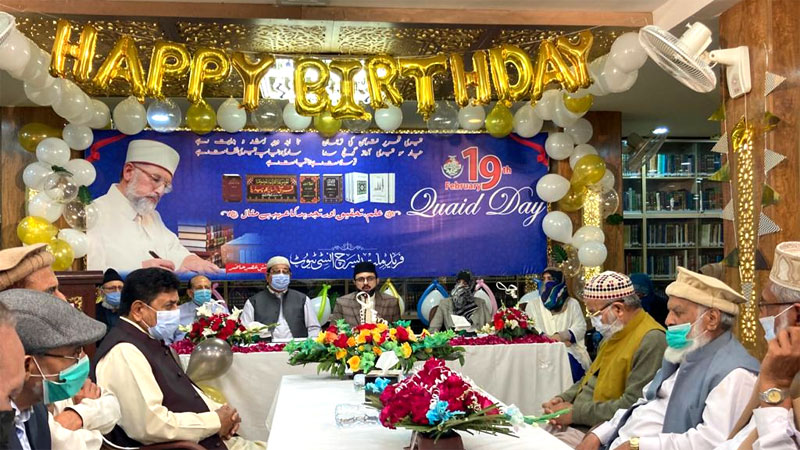 Chairman MQI Supreme Council Dr Hassan Mohi-ud-Din Qadri has said that as of today, MQI is the biggest reformative organization working for the education and spiritual training of the youth. He said MQI is a movement dedicated to the promotion of knowledge, research, and awareness. He said that Shaykh-ul-Islam Dr Muhammad Tahir-ul-Qadri has authored more than 1000 books on a variety of subjects, out of which 650 works have been published. He said that these books are the source of scholarly guidance of all manner of seekers of knowledge such as professors, teachers, researchers, scholars and the students.
Dr Hassan Mohi-ud-Din Qadri made these remarks while addressing a Quaid Day ceremony under the banner of Farid-e-Millat Research Institute (FMRi). Vice President MQI Brig. (r) Iqbal Ahmad Khan, Khurram Nawaz Gandapur, Director FMRi Muhammad Farooq Rana, Mufti Abdul Qayyum Khan Hazarvi, Naib Nazim e Aala Research Shaykh Abdul Aziz Dabbagh, renowned intellectual and columnist Hafiz Shafique-ur-Rahman, President MWL International Dr Ghazala Hassan Qadri, Mrs. Farah Naz, Sidra Karamat, research scholar Farida Sajjad, and Directors of different departments attended the ceremony.
The cake marking the 70th birthday of Shaykh-ul-Islam Muhammad Tahir-ul-Qadri was cut at the conclusion of the ceremony. Muhammad Farooq Rana briefed the participants about the working of the FMRi.
Addressing the ceremony, MQI Secretary General Khurram Nawaz Gandapur said that the multifaceted efforts and services of Shaykh-ul-Islam have influenced the lives of hundreds of thousands of people from East to West. He said that Idara Minhaj-ul-Quran has made arrangements for the provision of the Quranic instruction to the children of Muslim families living abroad. He said that students belonging to thousands of families are getting an education and spiritual training in over 500 educational institutions set up by MQI.