Mandi Bahauddin: Ittihad-e-Ummat & Shaykh-ul-Islam Conference held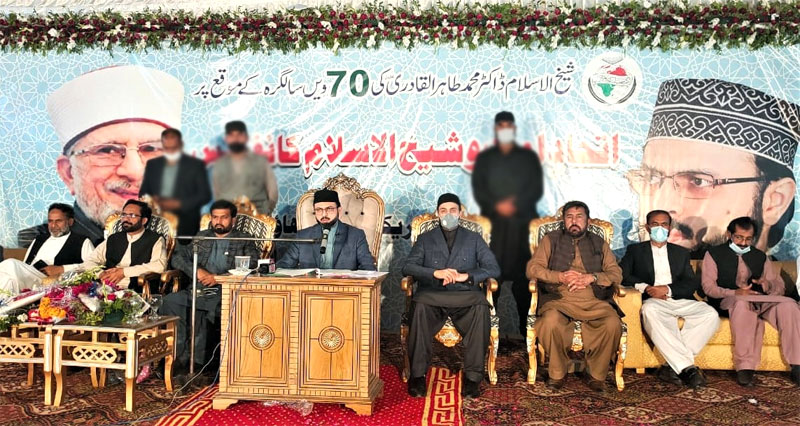 On the occasion of the 70th birthday of Shaykh-ul-Islam Dr Muhammad Tahir-ul-Qadri, Ittihad-e-Ummat and Shaykh-ul-Islam Conference was held under the banner of MQI (Mandi Bahauddin chapter). Chairman MQI Supreme Council Dr Hassan Mohi-ud-Din Qadri and Shaykh Hammad Mustafa al-Madani al-Qadri attended the conference on special invitation. They also spoke on the occasion.
In their speeches, the speakers paid rich tributes to Shaykh-ul-Islam for his revivalist efforts and scholarly, intellectual, and spiritual contributions. They appreciated the global role of MQI in the promotion of peace, love, and interfaith harmony in a world that is increasingly torn apart by hatred and polarisation.
In addition to Engineer Muhammad Rafique Najam, Raja Zahid Mahmood, Mian Rehan Maqbool, Arif Chaudhry, Qazi Faiz-ul-Islam, a large number of men and women belonging to various walks of life as well as local workers attended the conference in large numbers.
Chairman MQI Supreme Council Dr Hassan Mohi-ud-Din Qadri was warmly received on his arrival in the conference. As his vehicle made its way to Mandi Bahauddin, people extended a warm welcome to him at Gojra, Bhikhi Sharif, and King Chowk Mandi Bahauddin.
Chairman MQI Supreme Council congratulated all the leaders and leaders of various forums of MQI. A cake of Shaykh-ul-Islam's 70th birthday was cut at the conclusion of the ceremony. Dua was also made for his good health and long life.