Shaykh-ul-Islam to address the national conference of religious scholars & Mashaykh tomorrow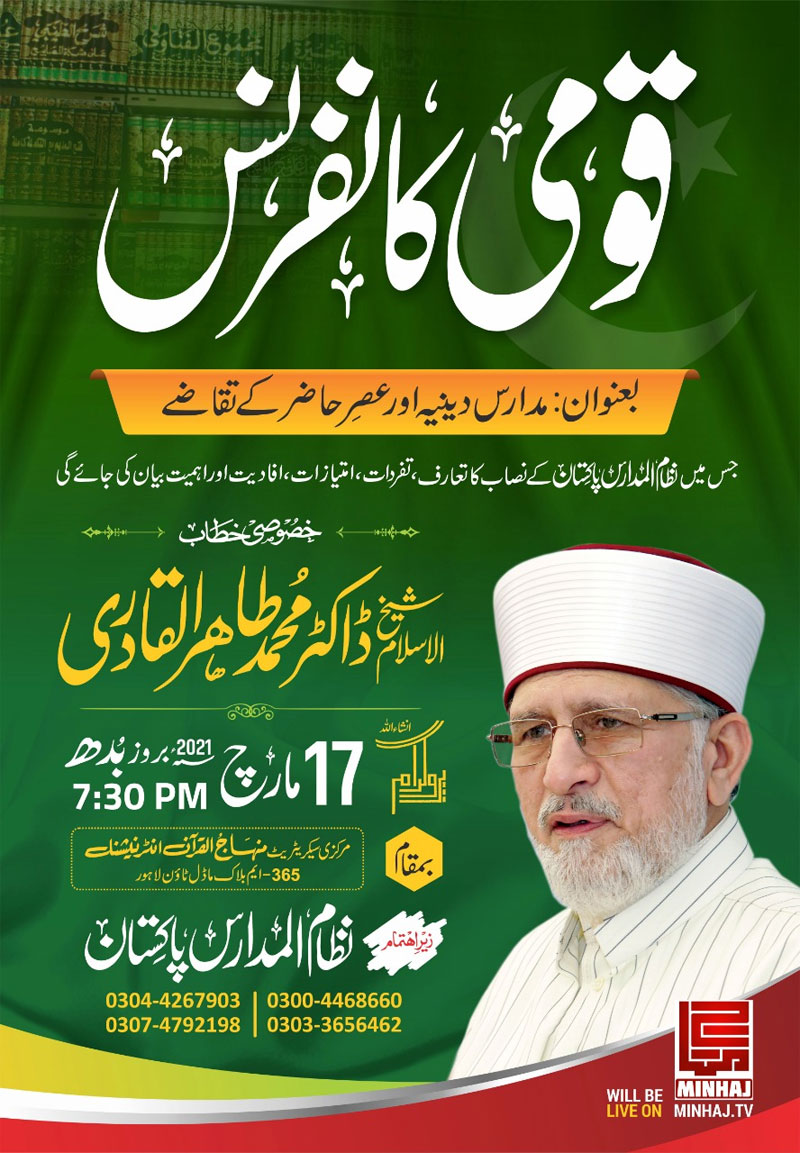 Minhaj-ul-Quran International (MQI) founding leader Shaykh-ul-Islam Dr Muhammad Tahir-ul-Qadri will address a national conference of religious scholars and Mashaykh on March 17. The event to be held online will take up the subject of redesigning the curriculum of the religious seminaries. The senior professors and religious scholars of Madaris from Lahore, Karachi, Faisalabad, Rawalpindi, Multan, Bahawalpur, Gujranwala, Gujrat, Azad Kashmir, Quetta, Okara, Sahiwal, Mandi Bahauddin, and Hyderabad will attend the online conference.
Shaykh-ul-Islam Dr Muhammad Tahir-ul-Qadri will throw light on the chief characteristics and distinctions of the new syllabus of Nizam-ul-Madaris Pakistan. He will also explore the 1000-year old history of the religious curriculum taught at various religious institutions.
These views were expressed by MQI Secretary General Khurram Nawaz Gandapur while addressing a meeting held here at the central secretariat. He said that the invitations have been extended to all concerned for participation in the historic national conference.
Khurram Nawaz Gandapur further said that some religious scholars have consistently maintained that conspiracies are being hatched against Madaris. He said the fact is that the establishment of new boards has worried some people and they think their hold on the religious seminaries will loosen with the establishment of the boards. He said that the government's actions such as demands for details of income and expenditure, and the registration of religious seminaries are being dubbed as a conspiracy.
MQI Secretary-General said that the syllabus and system of religious seminaries should be regulated and both the state and the parents should have a fair idea of where the children are studying and what is being imparted to them in the name of religion. He said that no one in any part of the world can set up an educational system without the authorization and approval of the state, adding that the same procedure needs to be followed in Pakistan.
Khurram Nawaz Gandapur said that we consider religious seminaries as the source of revival of Islam. He said that Madaris will have to redefine their role in line with the requirements of the modern age by rethinking their syllabus. He said that reconsideration of the curriculum to address the demands of times continues to happen periodically in the world. He said that some religious scholars are opposing the reforms due to their political interests, which is akin to hatching conspiracy against the seats of Islamic learning.
President Nizam-ul-Madaris Pakistan Allama Imdadullah Qadri, Nazim-e-Aala Nizam-ul-Madaris Pakistan Allama Mir Asif Akbar, Nazim Examinations Allama Ain-ul-Haq Baghdadi, and others attended the meeting.