Dr Tahir-ul-Qadri unveils new curriculum for Nizam-ul-Madaris Pakistan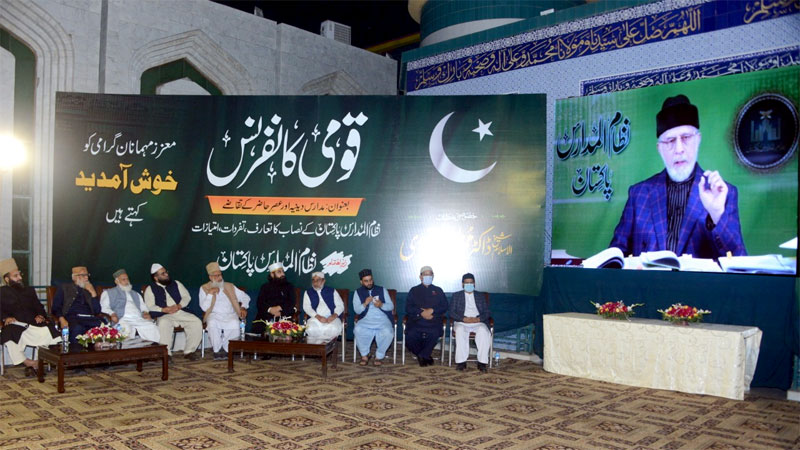 Minhaj-ul-Quran International (MQI) founding-leader Shaykh-ul-Islam Dr Muhammad Tahir-ul-Qadri has presented a new curriculum for Nizam-ul-Madaris Pakistan in a national conference held on the subject of a syllabus for the religious seminaries. He invited the religious scholars, teachers, academics, and researchers to give their suggestions with an open mind, assuring them that their input will be accommodated. He said we are not in any kind of competition with any board, or school of thought, stating that he considers such thinking as a sin. He said that we are striving to revive the scholarly traditions and moral values of our forefathers. He stated that he believes in dialogue and engagement.
Addressing the national conference, Dr Tahir-ul-Qadri said that the current curriculum of Dars-e-Nizami being taught in religious seminaries across Pakistan is 272 years old. He reminded the participants that the last time the curriculum was rearranged was during the reign of Emperor Aurangzeb Alamgir by Mullah Nizam-ud-Din Farangi. He said the question arises as to how can a curriculum which was designed 272 years ago cater to the demands of the modern age? He said that revision of teaching syllabus from time to time is a standard academic practice necessitated by the emergent changes.
Dr Tahir-ul-Qadri said that with the arrival of the British in the sub-continent, the syllabus of the religious seminaries stagnated. He said that the time has come to break the stagnation. He said that a religious scholar must look unique and distinguished in society in terms of his knowledge, morality, and character. He said that Allah Almighty likes movement, adding that a true scholar can never become a victim of stagnation. He said that Islam is a universal religion that answers the questions of the modern man in the realms of politics, science, spiritualism, sociology, and economy.
MQI leader described scholar as someone whose knowledge continues to increase in life. He said that the spiritual role of the mosque, religious seminary, and convent needs to be revived for the establishment of an Islamic society based on moderation, knowledge, and piety, adding that it makes it inevitable for the curriculum to be aligned with the contemporary demands.
Talking about the new syllabus for Nizam-ul-Madaris Pakistan, Dr Tahir-ul-Qadri said that a student getting an education in the system of Nizam-ul-Madaris Pakistan will read 364 books in addition to the textbooks of his course during the eight years of his academic life. He will be imparted lessons in the Quranic and Hadith sciences, Sira al-Nabi (pbuh), beliefs, interfaith studies, ethics, and dialogue. He said that the Holy Prophet (pbuh) ordained the believers to learn the language of Jews and Romans so that they could be engaged and spoken to in their language, adding that learning the languages of other nations is the Sunnah of the Holy Prophet (pbuh).
Dr Tahir-ul-Qadri said that there is a vastness and generosity in Islam. He said that we cannot reap the real fruits and enjoy the blessings of our great religion by compartmentalizing our great faith into various narrow confines. He said that educational refresher courses for the teachers have been introduced in the syllabus of Nizam-ul-Madaris. He said that a teacher who is grounded in knowledge and action can produce a generation of scholars who are heir to the prophets.
The national conference, which was held at the central secretariat under the banner of Nizam-ul-Madaris Pakistan, was an online event due to the prevailing Covid situation. Shaykh-ul-Islam's keynote address was shown live across 300 cities of Pakistan including Lahore, Karachi, Faisalabad, Rawalpindi, Okara, Multan, Gujranwala, Jhelum, Sialkot, Gujrat, Hyderabad, Quetta, Mirpur, Sahiwal, Peshawar, and Hazara, etc. The religious scholars, researchers, teachers, and academics from various schools of thought attended the conference.
Dr Tahir-ul-Qadri said that he wanted to see the religious seminaries transform themselves into such seats of learnings as equip students with knowledge enabling them to contribute meaningfully to any walk of life of their choosing, be it a religious institution or any other field. He said that it is possible only when the students are given education in both the religious and modern subjects. He said that he never considers himself a scholar, stating that when such thought is developed, the process of learning stops. He said that he always considers himself to be a student and seeker of knowledge. He said that MQI is a movement of knowledge and announced that we are going to set up a city of knowledge soon, IA.
The syllabus has been uploaded on the social media links of Minhaj-ul-Quran International and Nizam-ul-Madaris Pakistan for study. Nazim-e-Aala Nizam-ul-Madaris Pakistan Allama Mir Asif Akbar, Mufti Shabbir Anjum Qadri, Mufti Arshad-ul-Qadri, Allama Mufti Qasim Alvi, Dr Mumtaz-ul-Hassan Barvi, and Allama Badar-uz-Zaman addressed the conference.

Secretary-General MQI Khurram Nawaz Gandapur, President Nizam-ul-Madaris Pakistan Allama Imdadullah Qadri, Mufti Abdul Qayyum Khan Hazarvi, Mufti Muhammad Shabbir Anjum, renowned columnist Hafiz Shafique-ur-Rehman, anchorperson Zia-ul-Haq Naqshbandi, Directors of departments of the central secretariat, and the office-holders of different forums attended the ceremony in a large number.