Gosha-e-Durood: Monthly Spiritual gathering for May 2021 held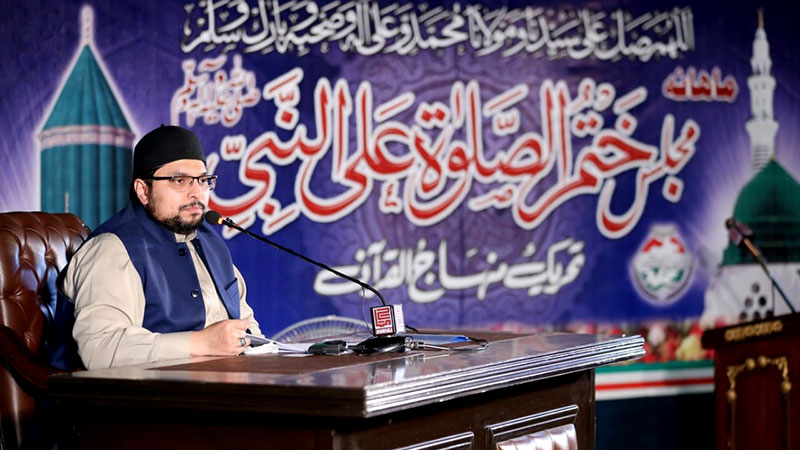 A monthly spiritual gathering was held at the central secretariat on the 5th of June at the MQI central secretariat. President MQI Dr Hussain Mohi-ud-Din Qadri addressed the ceremony. He told that Durood was recited for over 90 crore 83 lac 92 thousand and 754 during the month of May under the system of Gosha-e-Durood, thus taking the total tally to over 63 billion 81 crore 24 lac 93 thousand and 253 times.
Addressing the ceremony, Dr Hussain Mohi-ud-Din Qadri gave a talk about anger, its pitfalls and management in light of the teachings of the Holy Quran. He said that it is natural for humans to be angry but the way we manage it either shapes or de-shapes our personality. He said that extreme anger turn human feelings into negative emotions, thus leading a man to develop negative tendencies in his personality, which has serious implications for society. He said that it is unfortunate that our society has been riven by negative behaviors due to the economic hardships as well as the pandemic-created situation. He said that psychological problems have aggravated and intolerance is increasing in society.
Dr Hussain Mohi-ud-Din Qadri said that we need to benefit from the teachings of our beloved Prophet (pbuh) as how to overcome anger. He said that we should learn to be grateful and patience, no matter what the circumstances are. He said that we make Allah Almighty the center of our attention, we change a paradigm shift in our whole being. He said that a socially tolerant person is a source of spreading contentment.
The event came to an end with a special Dua for peace, and prosperity of Pakistan.