Shaykh-ul-Islam's books donated to the Punjab Sports Board library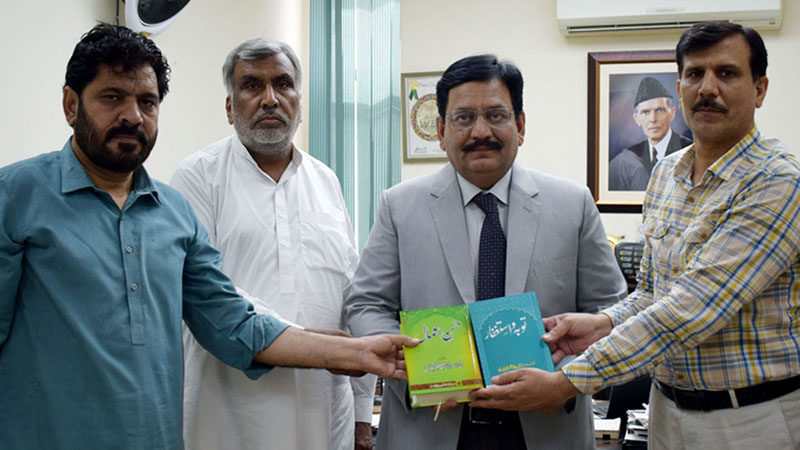 Minhaj-ul-Quran International (MQI) has gifted books authored by Shaykh-ul-Islam Dr Muhammad Tahir-ul-Qadri to Hazrat Abu al-Hasan ash-Shadhili library located at Qaddafi stadium Lahore that is being operated under the aegis of Sports Board Punjab. An MQI delegation consisting of Director Public Relations Shahzad Rasool, Haji Muhammad Ishaq, and Abdul Hafeez Chaudhry presented the gift of books to Director General Sports Punjab, Adnan Arshad Olakh. The delegation also conveyed a special message of Deputy Chairman BoG of Minhaj University Lahore, Dr Hussain Mohi-ud-Din Qadri, to the Director General.
In his message, Dr Hussain Mohi-ud-Din Qadri highlighted the need for building libraries to revive the dying culture of book reading. Congratulating the DG Sports Punjab on the establishment of the library, he said that libraries play an important role in the development of thought and intellect of the nations. He said that it is indeed encouraging to see that the Punjab Sports Board is paying attention to the building of libraries in addition to promoting sports for physical health.
Dr Hussain Mohi-ud-Din Qadri said that when Muslims ruled the world, there was a network of libraries in every city and town and Muslim scholars would spend most of their time in reading and exploring knowledge, adding that this exactly was the time when inventions and discoveries were made.
Deputy Chairman BoG said that the teachings of Sufis and their life stories will have to be spread for the establishment of peace and the promotion of peace and brotherhood. He said that the services of the Punjab Sports Board are praiseworthy for the promotion of sports culture in the province.
Director General Punjab Sports Board Adnan Rashid Olakh thanked MQI and Dr Hussain Mohi-ud-Din Qadri for the donation of books of Shaykh-ul-Islam. He said that there is even a greater need to pay attention to the establishment and consolidation of libraries today. He said that the paths out of the educational institutions merge with the libraries in a shared task of spreading enlightenment. He said that Dr Tahir-ul-Qadri's services for Islam and the spread of knowledge deserve to be lauded. He said that MUL and other educational institutions under MQI offer a unique blend of modern and classical education.
DG Sports Board said that we are making endeavors for the promotion of hockey in Punjab in particular along with other games. He said that this national sport needs to be made popular again and PSB is committed to making it happen.