Arrangements completed for collective sacrifice under MWF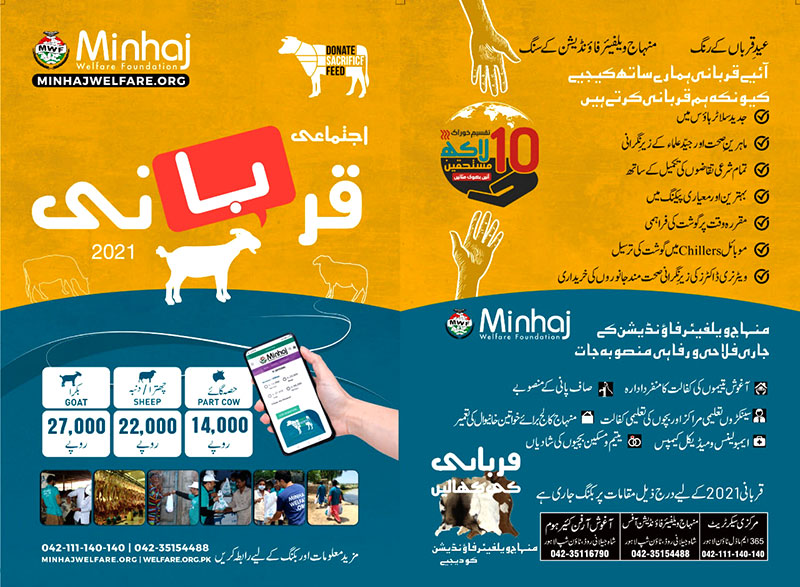 Minhaj Welfare Foundation has completed all arrangements for offering of the collective sacrifice across the country including Lahore. Modern slaughter house has been set up in Lahore. Animals have reached the central sacrificial place that will be slaughtered over the course of three days of Eid.
MQI Secretary General Khurram Nawaz Gandapur visited the central sacrificial place along with MWF Director Syed Amjad Ali Shah, Jawwad Hamid and the heads of the administrative committees. The senior leaders inspected the arrangements and passed special instructions for upkeep of the animals, their food and security. Khurram Shahzad, Haji Manzoor Hussain, Ayub Ansari, Mian Zahid Javed, Saeed Akhtar and others were present on the occasion.
Talking to the heads of different administrative committees, Khurram Nawaz Gandapur said that massive arrangements have been made for the distribution of meat among the deserving like the practice of the previous years. He said that cooked food will be distributed in different hospitals of Lahore during the three days of Eid. He said that inmates serving jail terms will also be included in the happiness of the festival. He said that MWF volunteers will distribute the food in the jails.
MQI Secretary General said that thousands of people pre-booked their share in the sacrifice of animals this year as well, which is a sign of their trust in the MWF and its Eid operation. He said that a team of expert butchers will perform the ritual of slaughtering in the presence of veterinary doctors and religious scholars.
Khurram Nawaz Gandapur said that the services of MWF for the ailing humanity are like an open book. He said that hundreds of thousands of children are being provided free education. Orphan Care Home, an institution of highest standards, has been set up that provides educational and residential facilities to the orphan children absolutely free of cost. He said that wells for the provision of clean drinking water are being dug up in the far-flung areas of Punjab and Sindh. He said that hundreds of other schemes are being implemented for the provision of drinkable water to the people. He asked the people to include others in their happiness on the occasion of Eid-ul-Adha, stating that this is the essence of the festival.