MQI delegation meets families of the martyrs of armed forces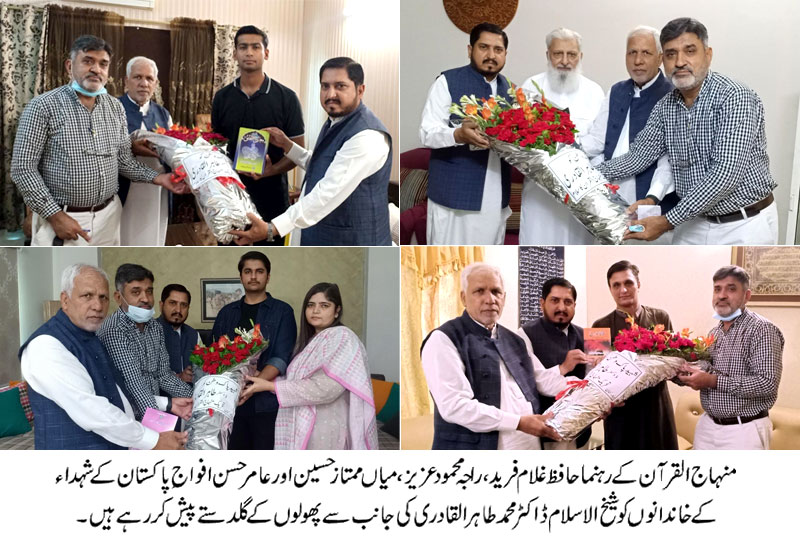 A delegation of senior MQI leaders met with the families of the martyrs of Pakistan armed forces and expressed their unflinching solidarity with them. Speaking on the occasion with them, they said that 210 million people sleep peacefully because of the sacrifices of the martyrs. They said that the nation remains eternally indebted to the martyrs, Ghazis, and their families for the sacrifices they have rendered in the defence of the motherland.
The delegation consisted of central secretary coordination Hafiz Ghulam Farid, Raja Mahmood Aziz, Mian Mumtaz Hussain and Amir Hassan. The delegates went to the residence of Lt. Col. Shahab-ud-Din Shaheed, Capt. Kamran Shaheed, Lt. Col. Rai Farhan Ali Shaheed, Mirza Amir Baig Shaheed, Hawaldar Naveed Shaheed, Lt. Haider Nazeer Shaheed, Major Abdul Wahid Shaheed, Capt. Jahanzeb Shaheed, Lt. Syed Irtaza Abbas Shaheed, and Major Ali Sultan Nasir Shaheed and offered their condolences to the families. They also presented the bouquet of flowers to them on behalf of Shaykh-ul-Islam Dr Muhammad Tahir-ul-Qadri.
The delegates paid rich tributes to the Shuhada and prayed to Allah Almighty to rest their souls in eternal peace.