MQI is an advocate of unity, peace & dialogue: Dr Hassan Mohi-ud-Din Qadri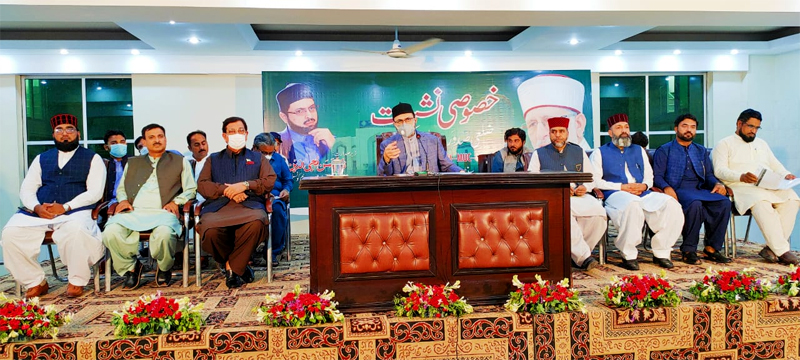 Addressing Central Punjab Workers Convention, Dr Hassan Mohi-ud-Din Qadri, Chairman MQI Supreme Council, has said that Minhaj-ul-Quran International (MQI) is a proponent of unity among Muslims. He said that sectarianism damaged the peaceful image of Islam and Pakistan. He said that MQI has set up exemplary institutions in order to impart moral and spiritual training and education and build a peaceful and harmonious society. He said that a true follower of Islam cannot be violent and extremist. He said the person of the Holy Prophet (pbuh) is the source of guidance for us in every walk of life, adding that raising a voice against oppression and exploitation is our religious and moral duty.
Naib Nazim-e-Aala Allama Rana Muhammad Idrees presented the welcome address and introduced the newly elected office-holders. The presidents and general secretaries of the 21 districts of central Punjab including six districts (zones) of Lahore attended the oath-taking ceremony of the new representatives.
Addressing the ceremony, MQI Secretary General Khurram Nawaz Gandapur said that the PAT and MQI workers have the moral clarity and courage to call spade a spade by rising above expediency. He said that our workers laid down their lives to take the veil off the face of the oppressive system, stating that those who indulged in bloodletting will be held to account.
Senior leader Mian Rehan Maqbool, while speaking at the Workers Convention, said that we seek intellectual and ideological guidance from the teachings and actions of Shaykh-ul-Islam Dr Muhammad Tahir-ul-Qadri. He said that Dr Qadri gave the nation the awareness of comprehensive reforms.
Rana Nafees Hussain, Dr Sultan Chaudhry, Mian Abdul Qadir, Ishtaiq Hanif Mughal, Qari Riasat Chaddhar, Sidra Karamat, Umme Habiba Ismail, Rafia Urooj, and Irshad Iqbal attend the Workers Convention.