Monthly Minhaj-ul-Quran magazine published on the 41st foundation-day of MQI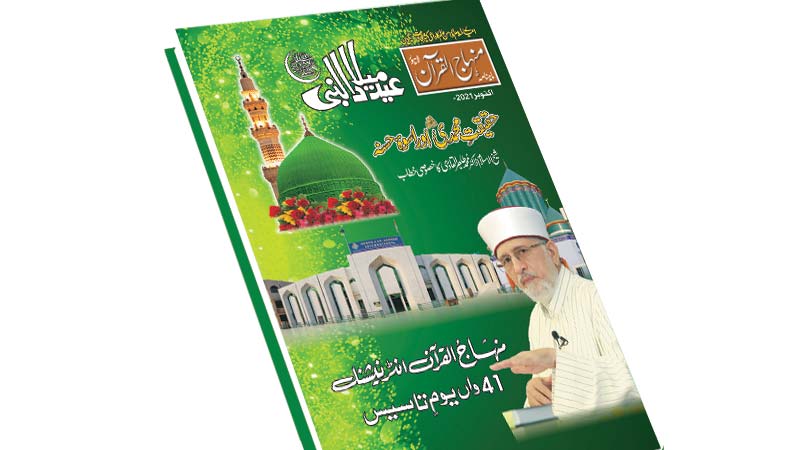 A special monthly Minhaj-ul-Quran magazine was published on the occasion of the 41st foundation of Minhaj-ul-Quran International. This month's publication is significant in the sense that it has a special opinion piece by Shaykh-ul-Islam Dr Muhammad Tahir-ul-Qadri in which he has narrated the story of the founding and rise of MQI. He has also thrown light on the ideological foundation of MQI in great detail in his essay.
A special talk of Chairman MQI Supreme Council Dr Hassan Mohi-ud-Din Qadri on the topic of MQI as revivalist organization has also been rendered into writing and made part of the publication. MQI president Dr Hussain has contributed a research article on the subject of "Changing world and the role of religious movement." It is a unique research piece that explores the reasons behind failure and success of religious movements around the world.
The essay of Shafqatullah Qadri is also part of the special number in which the author has thrown light on the concept of women empowerment in Islam and discussed the educational and training aspects of the work done by MWL.
Other people who have contributed to the magazine include Dr Ali Akbar Al-Azhari, Mufti Abdul Qayyum Khan Hazarvi, Dr Hafiz Muhammad Saadullah, Ali Waqar Qadri, Sanaullah Tahir, Dr Muhammad Rafique Najam, Muhammad Ziaul Haq Razi, and Syed Amjad Ali Shah. Dr Mukhtar Ahmad Azmi has written a special essay on the scholarly, educational and managerial services of Dr Hussain Mohi-ud-Din Qadri.
Chief Editor Monthly Minhaj-ul-Quran Noorullah Siddiqui has written a special editorial to mark the 41st foundation-day. The readers will get sufficient information about the multidimensional efforts of MQI through the study of this special publication.