MQI working for the promotion of peace, tolerance & unity: Dr Hassan Mohi-ud-Din Qadri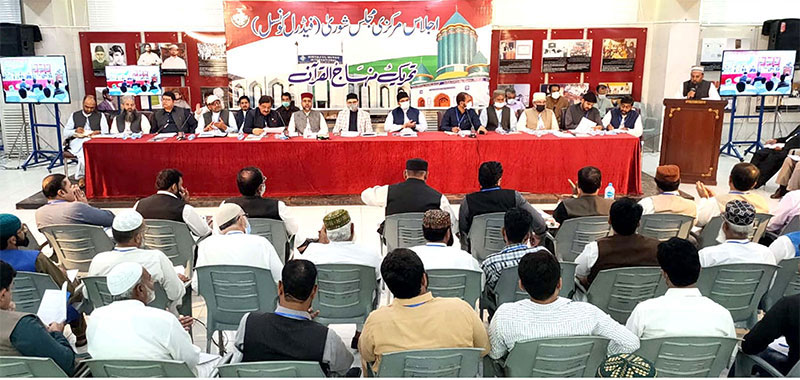 A meeting of the central Majlis-e-Shura was held here with Chairman MQI Supreme Council Dr Hassan Mohi-ud-Din Qadri in the chair. President MQI Dr Hussain Mohi-ud-Din Qadri, Secretary General Khurram Nawaz Gandapur and the members of Shura attended the meeting.
Addressing the meeting, Dr Hassan Mohi-ud-Din Qadri said that MQI has been making efforts to promote peace and tolerance in society, unity of Ummah, and the revival of Islamic teachings under the leadership of Shaykh-ul-Islam Dr Muhammad Tahir-ul-Qadri for the past forty years. He said that thanks to the educational, spiritual and research contributions and determined efforts of MQI, Islamic message of peace and love has reached all the continents and all those who pinned the blame of terrorism and extremism on Islam out of their biases and lack of knowledge were engaged with and responded to in the light of teachings of the Holy Quran and Sunna. They were told that Islam is a religion of peace and love.
Dr Hassan Mohi-ud-Din Qadri termed the establishment of Nizam-ul-Madaris Pakistan as a significant development and said that a large number of people from Pakistan and abroad are benefitting from COSIS, Minhaj College for Women and E-Learning Department.
While speaking at the occasion, President MQI Dr Hussain Mohi-ud-Din Qadri said that MQI has achieved many milestones in the field of education in a short span of forty years. He said that MQI has particularly targeted the youth and focused on their character-building and training. He said that over one hundred thousand students are studying at the educational institutions set up by Minhaj Education Society throughout the country in which which more than 10,000 young educated teachers are busy imparting knowledge. He said that the basis of intellectual and educational struggle of MQI is a peaceful and educated Pakistan.
Dr Hussain Mohi-ud-Din Qadri further said that many educational institutions are being established under the MQI umbrella to educate the children of Muslim families living overseas. He said that MQI is doing its duty of protecting the faith and character of your succeeding generations, adding that it is the only religious organization whose doors are open for members of all schools of thought.
Dr Hussain Mohi-ud-Din said that Shaykh-ul-Islam Dr Muhammad Tahir-ul-Qadri has achieved many successes as an advocate of moderate Islamic thought. Talking about Minhaj University Lahore, he said that it has become the centre of attention of people from all walks of life. He said that MUL combines quality education with training. He said that Minhaj University is one of the fast progressing institutions in the private sector at the moment, addding that it is included among the top ten universities that is providing financial relief to the tune of Rs. 600 million to the deserving students.
Directors, and zonal heads and deputy heads presented progress reports in the Majlis-e-Shura meeting. MYL president Mazhar Mahmood Alvi, MSM president Irfan Yousaf and MWL Nazima Sidra Karamat also submitted their respective performance reports in the meeting. Director FMRi Muhammad Farooq Rana briefed the Majlis-e-Shura about the revised constitution.
Dr Muhammad Rafique Najam, Allama Rana Muhammad Idrees, Sardar Shakir Mazari, Prof Saleem Chaudhry, Ahmad Nawaz Anjum, Noorullah Sidduqi, Javed Hazarvi, Syed Amjad Ali Shah, Allama Mir Asif Akbar, Abdul Sattar Minhajian, Muhammad Sanaullah and Arif Chaudhry also shared their views in the meeting and presented the progress reports of their respective departments.