Shaykh-ul-Islam Dr Muhammad Tahir-ul-Qadri's special message on the 41st foundation day of MQI
On 41st Foundation Day of @MinhajulQuran, I would like to congratulate all the members, affiliates, designates and everyone who participate in activities of Mustafvi mission. May Allah Almighty accept these humble efforts and grant us more strength to serve the noble mission.

— Dr Tahir-ul-Qadri (@TahirulQadri) October 16, 2021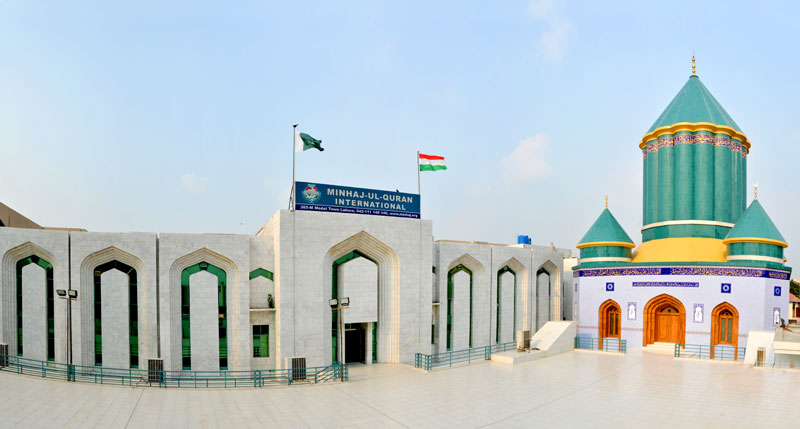 In a special statement marking the 41st foundation day of Minhaj-ul-Quran International, MQI founding-leader and patron-in-chief Shaykh-ul-Islam Dr Muhammad Tahir-ul-Qadri has said that MQI has attained many milestones in terms of its mission of service to humanity and religion in the short span of the last four decades. He said that MQI has, by the grace of God, established institutions for education and learning of the youth across the world that have benefitted hundreds of thousands of our young men and women, instilling confidence in them to promote the Islamic teachings of interfaith dialogue, harmony and peace.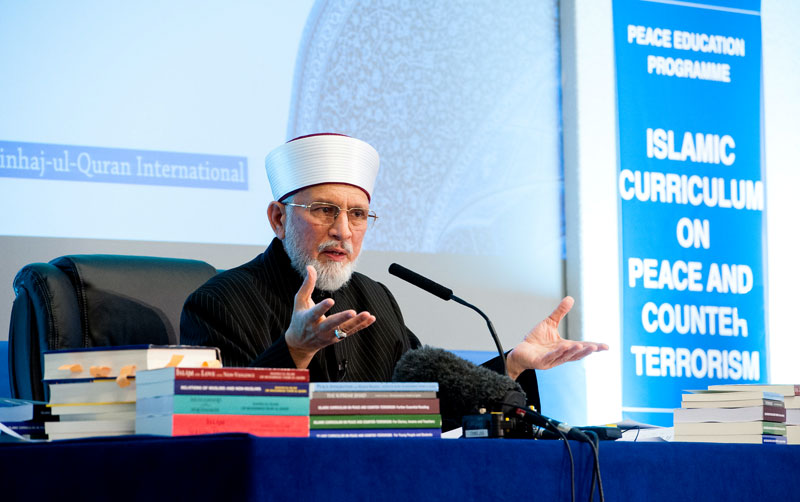 Shaykh-ul-Islam said that MQI has led a relentless intellectual struggle against extremism, violent attitudes and Takfiri ideology, stating that the journey of MQI's practical efforts for the unity within the Muslim Umma spanning over four decades is envious and worthy of emulation. He said that MQI has rendered amazing services for the protection of people's beliefs and correction of their religious thoughts with limited resources and today the benefits of these contributions and services are visible throughout the world. He said that we cannot thank Allah Almighty enough for enabling us to do out bit in the service to humanity and promoting the teachings of our great faith.
Dr Tahir-ul-Qadri congratulated workers, associates, office-holders and leaders of MQI across the world including Pakistan on the auspicious occasion of the 41st foundation-day and prayed to Allah Almighty to accept these endeavors and help MQI to continue its journey on the path of truth, peace and justice.
Congratulating all our workers on the 41st Foundation Day of @MinhajulQuran today. There is no doubt about the unprecedented work and contribution of MQI in countering extremism and promoting moderate vision and teachings of Islam.#MQIFoundationDay

— Dr. Hassan Qadri (@DrHassanQadri) October 16, 2021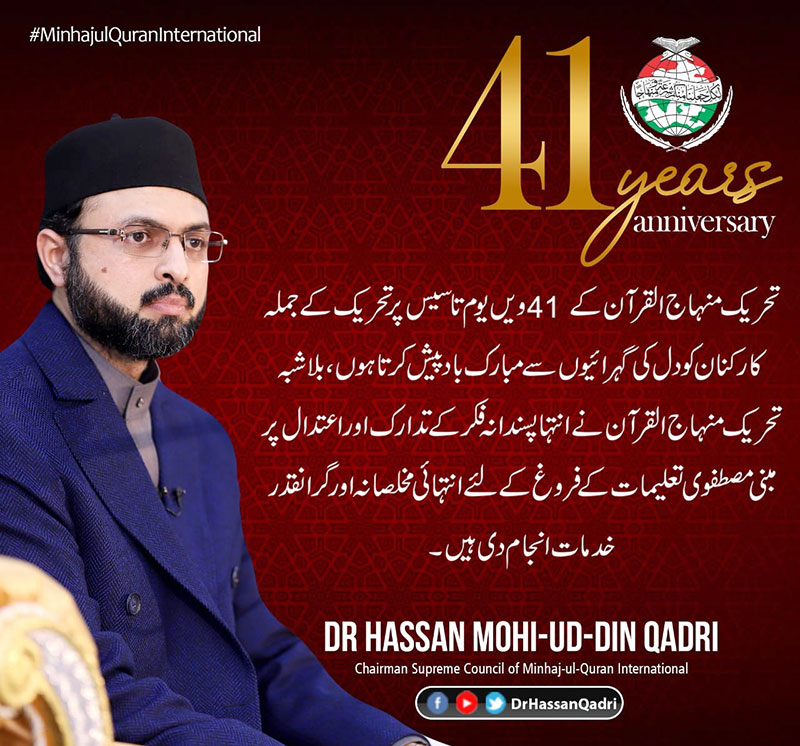 تحریک منہاج القرآن نے 4 دہائیوں کے مختصر عرصہ میں تعلیم و تربیت، اِصلاحِ اَحوال اور تصنیف و تالیف کے ضمن میں بہت سارے سنگ میل عبور کئے ہیں، 41 ویں یومِ تاسیس کے تاریخی موقع پر کارکنان کو مبارک باد پیش کرتا ہوں#MQIFoundationDay @MinhajulQuran

— Dr Hussain Qadri (@DrHussainQadri) October 16, 2021