Two-day Conference on Spirituality & Religion under MUL comes to an end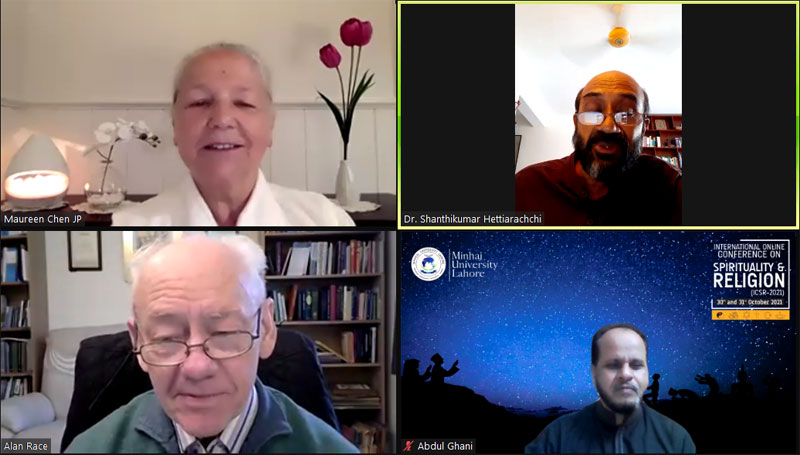 The two-day International online Conference on Spirituality & Religion (ICSR-2021) organized by School of Religion & Philosophy, Minhaj University of Lahore, on the subject of "The Inner Dimensions of Religion: The search for new meaning in ancient traditions" came to an end on October 31, 2021.
Dr. Sajid Mehmood Shahzad, Vice-Chancellor MUL, in his closing remarks stated that the two days of the conference went very well with four keynote speeches, two panel discussions, and presentations of the 16 research papers. Particularly, the opening session coupled with the keynote speech of Dr Hussain Mohi-ud-Din Qadri was extraordinary.
The VC, MUL, said that we have had top social scientists with us over the last two days of the conference and they presented their brilliant concepts through discussions on religions and spirituality. He quoted that mystics have a special place in our societies. They are all inspired by positivity and social actions that protect and reinforce the intellectual domains of all humanity. Through these conferences, webinars, and dialogues, the efforts that we are putting in to create a socially and religiously harmonized society will be surely acclaimed. These are steps of faith that we believe will turn into leaps of harmony on a good day, he added.
Dr. Herman Roborgh, Head of the Department of the School of Religion & Philosophy, presented the conference synthesis at the closing session of the conference. He said that the conference participants have evidently defined that the ultimate goal of religions was to become better human beings. The purpose of religions is to become a more perfect human being. This is the meaning of spirituality, which is a process by which we become more human with the help of our different religions.
The two-day conference brought together scholars of religions and spirituality to discuss the challenges facing humanity and find out how spirituality could be helpful in mitigating the problems.