Minhaj mobile clinic & lab project a big service to humanity: Rana Nafees Hussain Qadri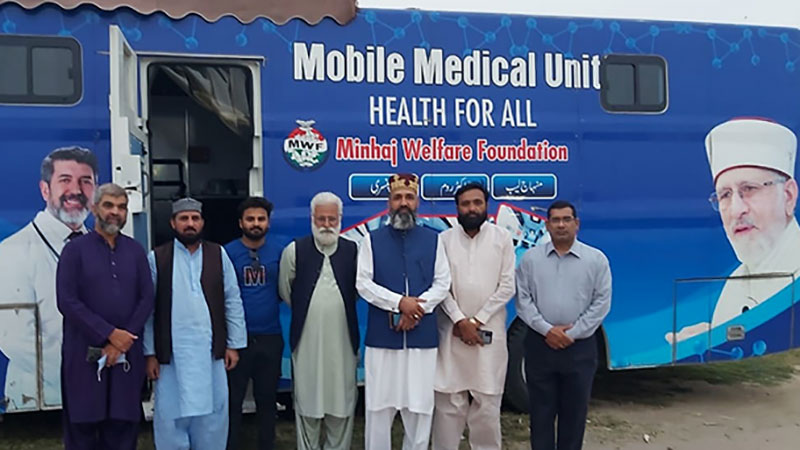 Rana Nafees Hussain Qadri, president of MQI Lahore chapter, has said that Islam is a religion of service to humanity. He said that it has described service to humanity as a form of worship. He said there is need for spreading Islamic message of love and service, adding that if we wish to win Allah's pleasure, we should serve the people in acute need. He said that almost half of our population is without the basic health facilities and the poor do not have the financial means to afford basic check-up and diagnosis, leave alone full medical treatment.
Nafees Hussain Qadri said that Minhaj Welfare Foundation Lahore has continued to operate the modern model project of mobile clinic and lab on self-help basis, which is a great service to the people. He said that Flight Lt. (r ) Abdul Majeed Malik, General Secretary of MWF Lahore, and Prof Zulifqar Ali and others office-bearers deserve to be congratulated on their contribution.
President MQI Lahore chapter expressed these views while talking to the Lahore chapter's officeholders in his office the other day. Flight Lt. (r ) Abdul Majid Malik briefed Rana Nafees Hussain Qadri about the operations of MWF Lahore. He informed that Minhaj Medical Unit is regularly organizing free medical camps throughout Lahore. He said that testing and treatment facilities have been delivered to thousands of poor patients at their door-steps. He said that mobile lab provides services to various PP, union council areas of Lahore according to the pre-announced scheduled. The patients are not only physical examined but they are also provided with medicines and lab tests.
Expressing his satisfaction on the pace of ongoing welfare projects of MWF Lahore, Rana Nafees Hussain Qadri said that all officeholders are doing their duty with complete devotion and sincerity. He said that doctors, lab technicians accompanying the Minhaj mobile unit are serving their countrymen with a sense of patriotism. He said that the mobile unit will be further strengthened enabling it to serve as many people as possible. He said that service to humanity is a mission and it is our foremost duty to implement this mission in the larger interest of those who need to be supported for want of financial means.