Shaykh-ul-Islam Dr Muhammad Tahir-ul-Qadri's special message on 144th birthday of Allama Muhammad Iqbal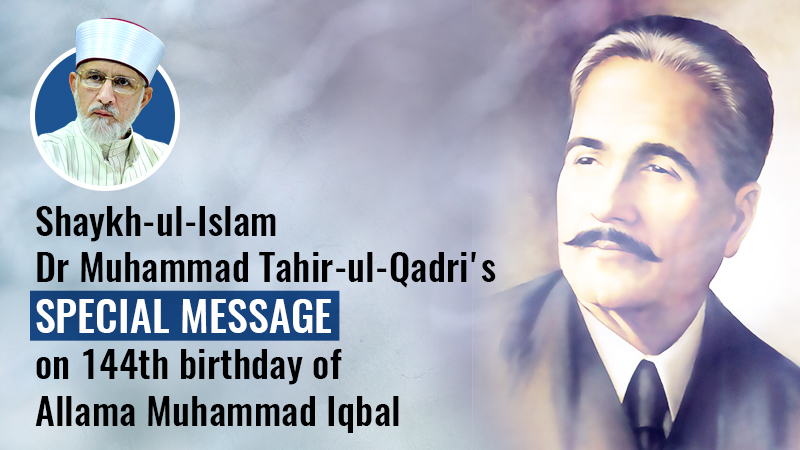 In his special message on the 144th birth anniversary of Hakeem-ul-Ummat Allama Muhammad Iqbal, MQI founding-leader Shaykh-ul-Islam Dr Muhammad Tahir-ul-Qadri has said that Allama Iqbal gave the purpose of life to Muslims of the sub-continent. His inspirational thoughts created intellectual dynamism among the Muslim community. He said that there is a need to understand Allama Iqbal's philosophy of 'self' today.
Dr Tahir-ul-Qadri said that at a time when Muslims were groping in the dark, Allama Iqbal provided a strong ideological foundation and showed them the way forward. He said that we, as a nation, need to take a recourse to Iqbal's message and act upon it to make Pakistan a truly welfare, Islamic state.
MQI leader said that Allama Iqbal's thoughts ignited the candle of hope and identified the destination for Muslims. He gave them the idea of self-reliance and trusting in their power in their struggle to create a new nation-state. He said that the notion of self-reliance means that Muslims attain expertise in the field of knowledge, science and technology and do not look to others for help and support.
Dr Tahir-ul-Qadri said that Hakeem-ul-Ummat was clear in his thoughts that if the youths of society are self-aware, and educated, no power of the world can stop such a people from becoming a leader in the comity of nations. He said that it is our great luck that Dr Iqbal provided intellectual guidance to Muslims and restored their confidence in themselves. He said that our youth will have to connect themselves with the ideology and thought of Iqbal.
Shaykh-ul-Islam underlined the need for implementing the message of Hakeem-ul-Ummat in order to steer the country out of problems and put it on the path to progress. He said that Allama Iqbal not only provided intellectual guidance but also practically led Muslims of the sub-continent from the front when such a need arose. He said that the thoughts and ideology of Iqbal needs to be imparted to our younger generations for welfare and prosperity of our country.