Gosha-e-Durood mobile application launched
Recitation of Durood-o-Salam is proof of the love of the Holy Prophet (pbuh): Dr Hassan Mohi-ud-Din Qadri

Chairman MQI Supreme Council Dr Hassan Mohi-ud-Din Qadri has said that Durood and salutations for the Holy Prophet (pbuh) is one of the most exalted blessings of Allah Almighty and those chosen ones who have the honour of reciting Durood bless their lives with peace, love and mercy of the Lord. He said that Durood is the source through which we can be close to our beloved Prophet (pbuh) and this practice represents our love and reverence of the Holy Prophet (pbuh).
Dr Hassan Mohi-ud-Din Qadri made these remarks while addressing an inaugural ceremony of Gosha-e-Durood mobile application that was held at the central secretariat of MQI in Model Town.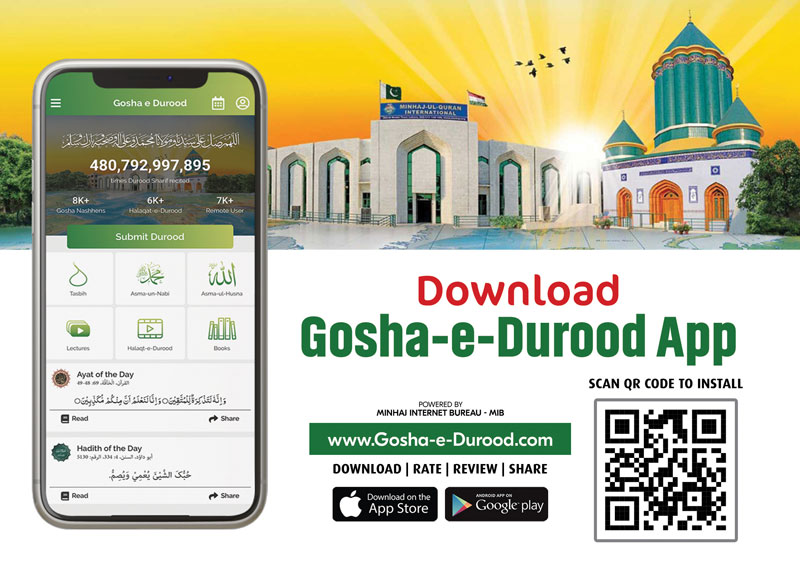 The residents of Gosha-e-Durood send greetings and salutations to the beloved Prophet (pbuh) throughout the year. Shaykh-ul-Islam Dr Muhammad Tahir-ul-Qadri established this Gosha dedicated for the recitation of Durood on December 2005. Now the mobile application of the same has been designed in line with the requirements of the modern age.
Dr Hassan Mohi-ud-Din Qadri inaugurated the mobile application by downloading the mobile application during leadership and training sessions. In addition to Engineer Muhammad Rafique Najam, Prof Muhammad Saleem Chaudhry, Abdul Sattar Minhajian, Ghulam Murtaza Alvi, Saeed Raza Baghdadi, and Minhaj-ud-Din Qadri, the district officeholders of Northern Punjab, Islamabad and Kashmir zone were present on the occasion.
Mobile App features
Having a very attractive layout, the holy Names of Allah and His Prophet (pbuh), Durood-e-Pak, counter rosary, matters and issues of Namaz, commandments about Hajj and Umrah, books on Durood and Wazaif, documentary of Halaqa-e-Durood, and the speeches of Shaykh-ul-Islam on Fazail-e-Durood-o-Salam are part of this mobile application.
One verse and Hadith along with their Urdu translation is shared daily on this app in order to further strengthen the relationship with the Holy Quran and Hadith.
The mobile application has a record of Durood offered by more than 8000 residents of Gosha-e-Durood as well as the record of 6000 Halaqa-e-Durood and 7000 Durood offered individually.
If you have become regular in sending greetings and salutations on the Holy Prophet (pbuh), then download the application, make your account and start submitting the number of Durood for inclusion in the monthly spiritual gathering's count. You also have the facility of setting a customised reminder.
The method to send Durood
- Click on the 'Tap to submit' button and get yourself registered.
- If you are already registered with the website of Gosha-e-Durood, you can activate the same account on your mobile application.
- In the same way, if you are arranging Halaqa-e-Durood, you can submit Durood by registering your Halaqa with the help of this application.
- If your Halaqa-e-Durood is already registered with the central secretariat, you can continue the same account by providing your email address in order to retain the old record.