10th Mass Marriage ceremony held under the banner of MWF Wah Cantt
Serving ailing humanity is the biggest social service: Dr Hussain Mohi-ud-Din Qadri
The responsibility to change our conduct & attitudes is ours: Dr Hussain Qadri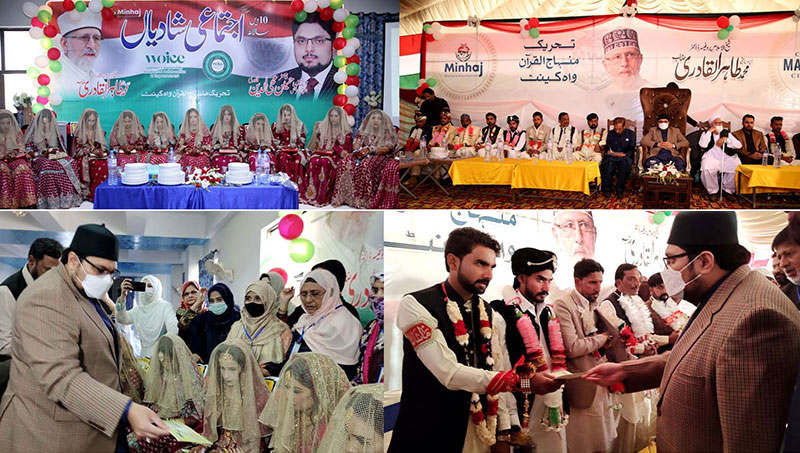 President Minhaj-ul-Quran International (MQI) Dr Hussain Mohi-ud-Din Qadri attended a mass marriage ceremony held under the banner of Minhaj Welfare Foundation, Wah Cantt. Speaking on the occasion, he said that sharing the worries and hardships of ailing humanity and serving them is an example of great social service and a good deed in the present age. He said that Islam is an egalitarian religion that urges its followers to take their brothers and sisters along who have been left behind in the race of life. He said that we have been instructed to give away whatever is more than our needs to those who do not have it, stating that Islamic teachings are the basis of brotherhood and welfare-oriented society.
Dr Hussain Mohi-ud-Din Qadri said that if there is a lot that a State is required to do, there are still many things that citizens must do, as constant whining does not reflect a good attitude. He said that we have to work on reforming our conduct and attitudes as no state can do such a thing. He said that we should give our 100% to the things that fall within our domain. He said that whether it is business, education or domestic responsibility, we should do full justice to these endeavours. He said that drastic changes in the lives of individuals will become the basis of revolution in the life of nations.
President MQI referred to Hakeem-ul-Ummat who said that the destiny of a community and nation lies in the hands of its people, for every individual is the guiding star leading the path for his community. He said that we should stop looking towards others and embark on a great mission of making Pakistan a welfare Islamic state. He said that the starting point in such a journey is to share the happiness and worries of our neighbourhood, and community.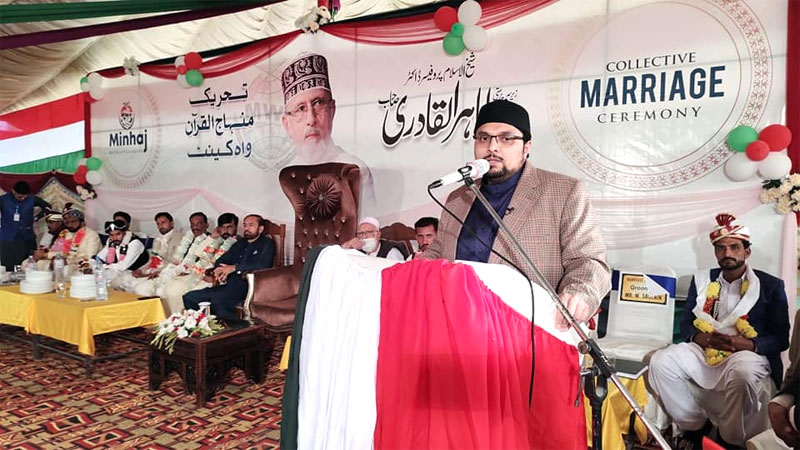 It was the 10th collective marriage ceremony under the banner of MWF (Wah Cantt.) in which 12 couples tied the knot and started a blissful matrimonial life. Every couple was provided with essential household stuff. Among others, the ceremony was attended by Prof Waqas Ahmad Khan of Jamat-i-Islami, central leader Muttahida Majlis-e-Ahle Hadith Maulana Abdul Malik Mujahid, Khawaja Muhammad Imtiaz, Assistant Attorney General for Pakistan, Engineer Muhammad Rafique Najam, Qazi Shafique ur Rahman, Haji Iqbal, Anar Khan Gondal, Saif-ur-Rahman Khan, Haji Liaqat, Sagheer Khan, Maqsood Ahmad, Khurram Sheraz, Pir Muhammad Abdullah Qadri, Allama Muhammad Zia-ur-Rehman, Malik Yasir Advocate, Haji Muhammad Saeed.
Dr Hussain Mohi-ud-Din Qadri distributed 'salami' among the newly wed couples and prayed for their happy and blessed married life ahead. He congratulated the organizers of the ceremony on making excellent arrangements on behalf of Shaykh-ul-Islam Dr Muhammad Tahir-ul-Qadri.